August 4, 2010 - 7:05 AM
* In Salzburg, Austria, we ate dinner at an Italian Pizzeria, served by a waiter from India who was cooking himself curry in the kitchen. His curry smelled amazing and I tried twice to convince him to share some of his dinner with me, but he refused to offer me any the first time and the second time said if I came back another time he would. We did enjoy eating their pizza (Miriam ate a record 5 slices!) in a beautiful outdoor courtyard where the kids learned what second hand smoke was really like. It had never occured to me that in their short lives, they've lived in areas where smoking is not allowed in most/all public areas.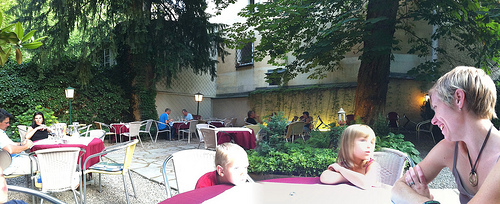 * Home and residence of Mozart, and with three universities, one of which being the Mozarteum University, music is everywhere in Salzburg. We walked around the Old Town and were drawn into a coffee shop area where a man was playing the accordian and a woman was playing the harp. It was beautiful. Walking around Mirabell Palace we were drawn in by the most amazing music wafting down to us from a beautiful gold leaf covered hall and concert above in the palace. Walking around the Domplatz every collonade or archway had amazingly skilled musicians using the architectural acoustics to enhance their sound. (They even waited their turn for their favorite spot in case it was being used by another musician at the time.)
* We walked up Linzer Grasse and saw a Swarovski store. The sight of the Swarovski swan always fills me with emotion. The day before marrying Josh, his mom brought me a beautiful Swarovski tiara she owned to wear for my wedding day. Joy for my wedding day, happiness for her kindness, sadness that she is no longer with us, but I am truly filled with emotions from the simple sight of their swan.
* As we walked around the Old Town area with all its storefronts we could not help but think how much Josh's dad and step mom would love this area. As we ate amazing German food I couldn't help but want my dad to try it off my plate. As we walked the Mirabell Palace and Gardens we couldn't help but want G-Bob & G-Elaine to see the beautiful gardens. As we sat eating breakfast outside a cafe, I couldn't help thinking about how much the older women walking past reminded me of my Grandmas, Great Aunts and Great Grandma, both in appearance and mannerisms (lots of German blood in my family!).
* Josh had been using his high school German skills as much as he could on our weekend trip and to help him remember he got a translator app for his iPhone. When it came to ordering from a menu he would use his translator to help me order but he would just pick something at random for himself. He always got food doing it this way, but what type of food was the surprise. When we were having Sunday breakfast at Cafe Habakuk, he ordered something that way and ended up with a soft boiled egg in a martini glass. Hahahahaha!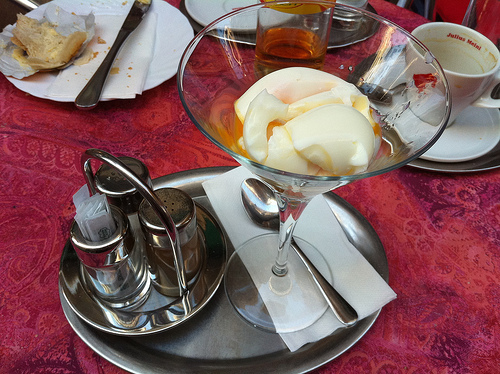 * But I finally received a "large" coffee at Cafe Habakuk which was the same size of a small US coffee.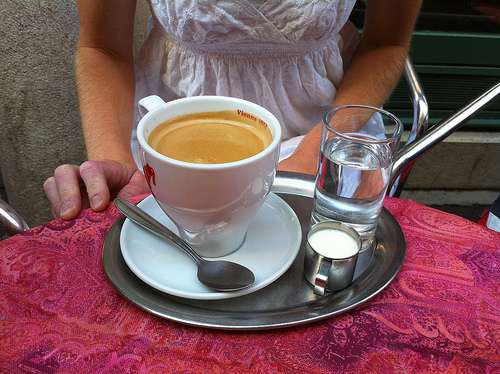 * In Strakonice, Zeke watched 4 motorcycles popping wheelies driving down the motorway while he was sitting and eating. He loudly proclaimed, "That's the most awesome thing I've ever seen in my whole life!" Standing close to a $400,000 Ferrari was probably second. Being passed on the Autobahn by the Porsche Cayenne going 130mph being 3rd. All the countless expensive & incredibly fast German cars he saw being 4th. Zeke's fast lane nature hit the top four seen-with-his-own-eyes highlights of his short life in our two week trip to Europe. Lucky boy! Look at that excitement!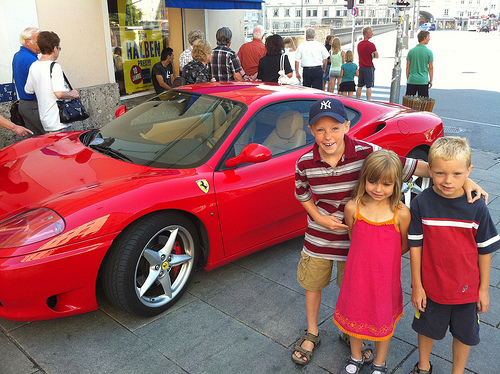 * It was inbetween the above picture and below that the outside temperature spiked and we were walking around in the gardens in the hot, hot, hot sun. It was beautiful, but painfully HOT. Josh and I were managing, Max and Miriam were sticky but Zeke was definitely overheated. By the time we were walking up to visit St. Peter's Cemetery Zeke started feeling a little worse but was still a good sport. He hung in there even though he was tired and would simply sit in shade and drink water while we explored around him. He did make himself climb up into a 1100 AD cave/church carved into the mountainside (they call it a catacombs, but I think that name is semi-misleading as there are no graves up there, there are two small church rooms, and the tale about it being a hiding place for a marytr that has been discredited over time, though monks have used it for a place of solace... but I digress) because he thought it looked cool, but he had to rest longer in order to have enough strength to climb back down the steep stairs. In the process, while we were waiting for Zeke, Josh took one of his all time favorite photos of Miriam.