October 6, 2014 - 12:14 PM
Travel Log: 26 March 2012
Once again, getting back to work after an amazing week vacation is hard for everyone, adults and kids. But, once again, the beauty of living anywhere, specifically living in a playground like Moab and living in a different time zone, means you can still pretend like you are on vacation when the work day is done.
Since our attempt to go skiing was a bust, we decided to rent suspension mountain bikes for the boys so they could ride on the infamous Slickrock Trail. Josh would ride with them on his fixed frame bike, even with his wrists still reeling from pain (strongly probable stress fractures) received during the Porcupine Rim trail ride.
The 10.6 mile, one and only, Slickrock Bike Trail is world famous, requires high technical ability, and is highly aerobic. The trail is made up of beautiful, buff-colored Navajo sandstone and is more of a sandpaper texture than slick rock. It was formed ages ago by petrified sand dunes undulating across the landscape.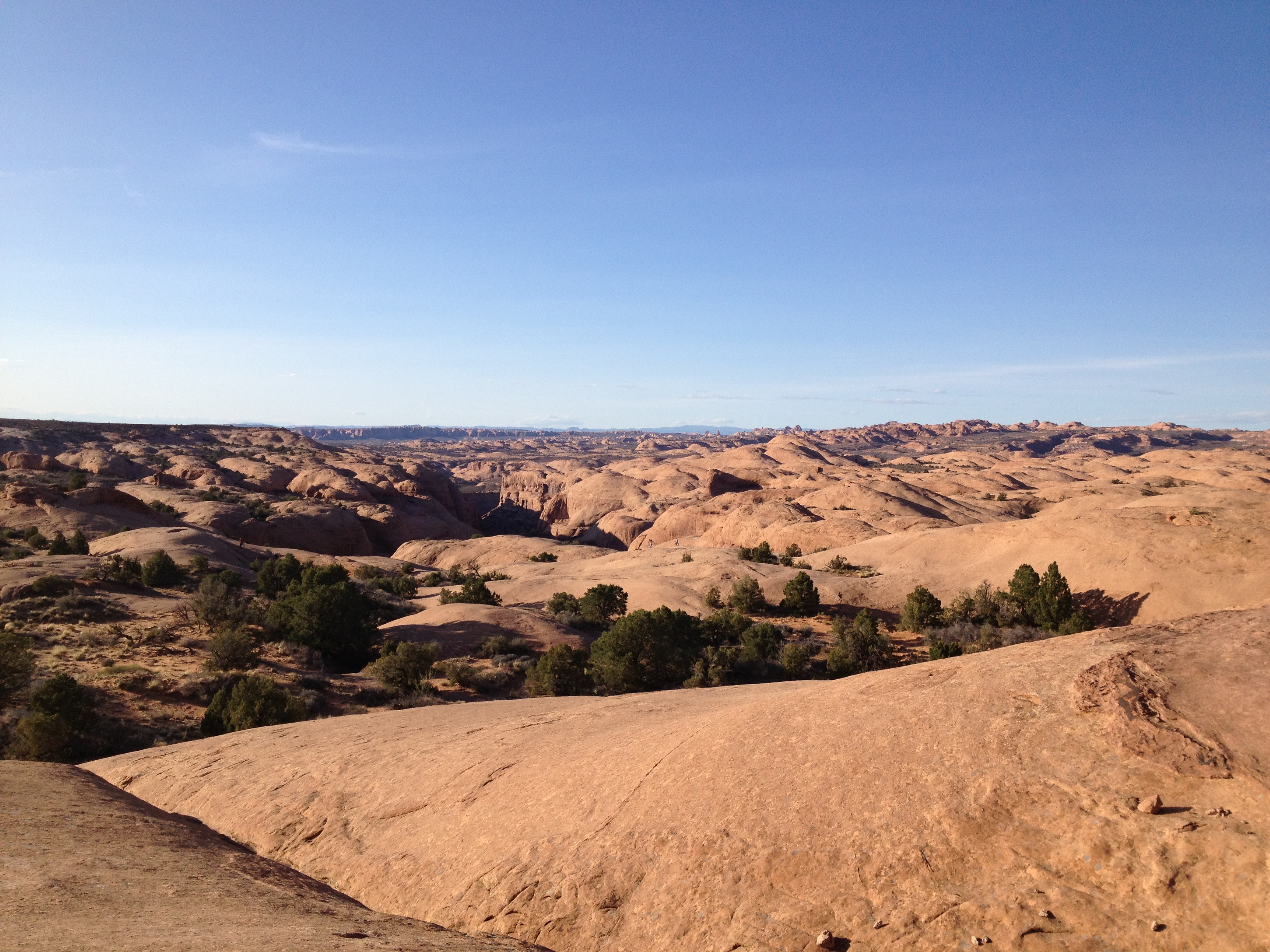 On the day we were there, someone was taken away in an ambulance for a broken leg received on the trail. Heeding the warning, we opted to have the boys try the 2.3 (tho, actually 3) mile practice loop located next to the official trail. Though it is not as long or extreme as the real trail, the practice loop is designed to be a challenging introduction for any rider considering the real trail and it was perfect for our boys. Josh took Zeke out and I walked behind Max (carrying Miriam on my back the whole time).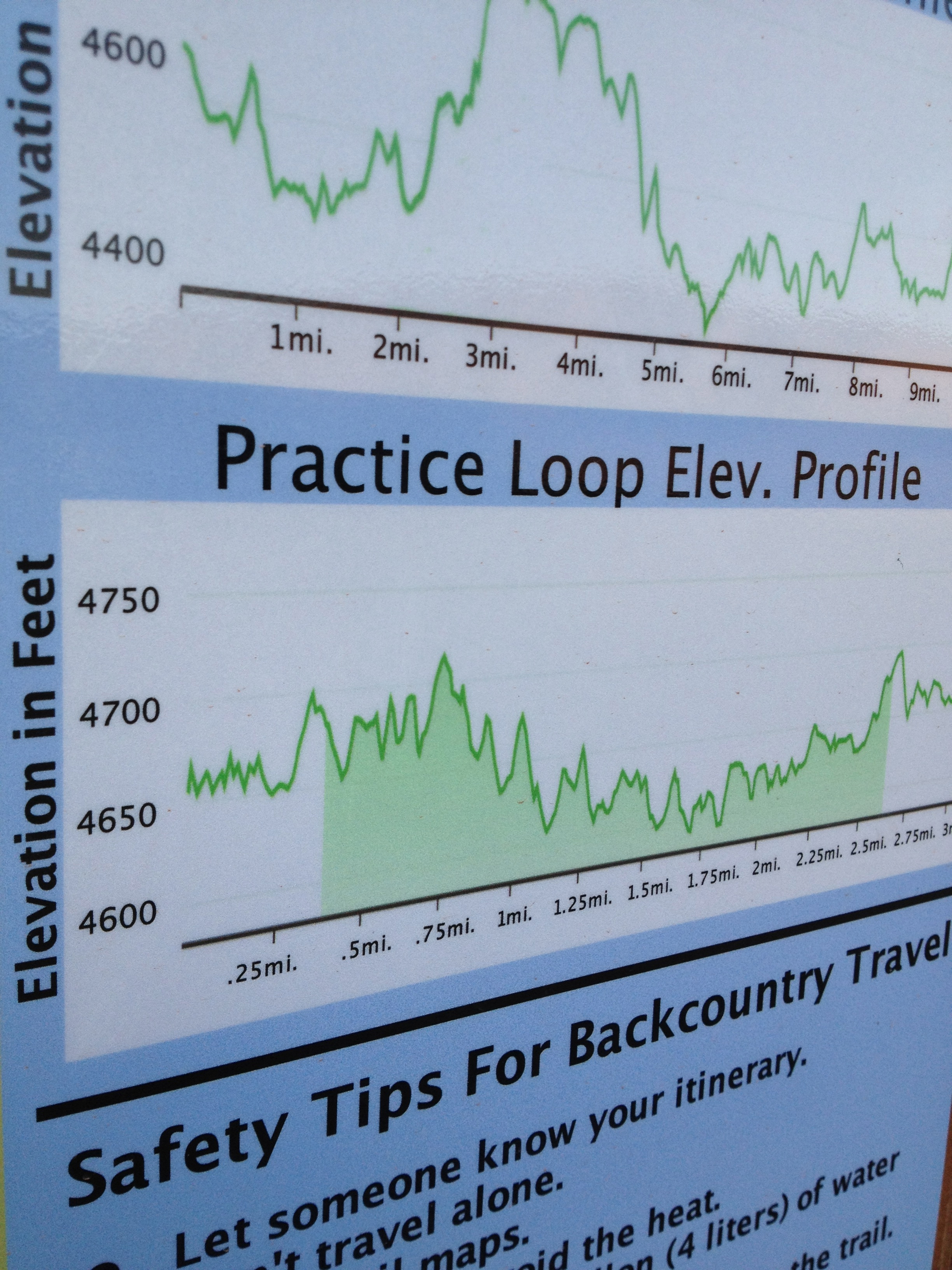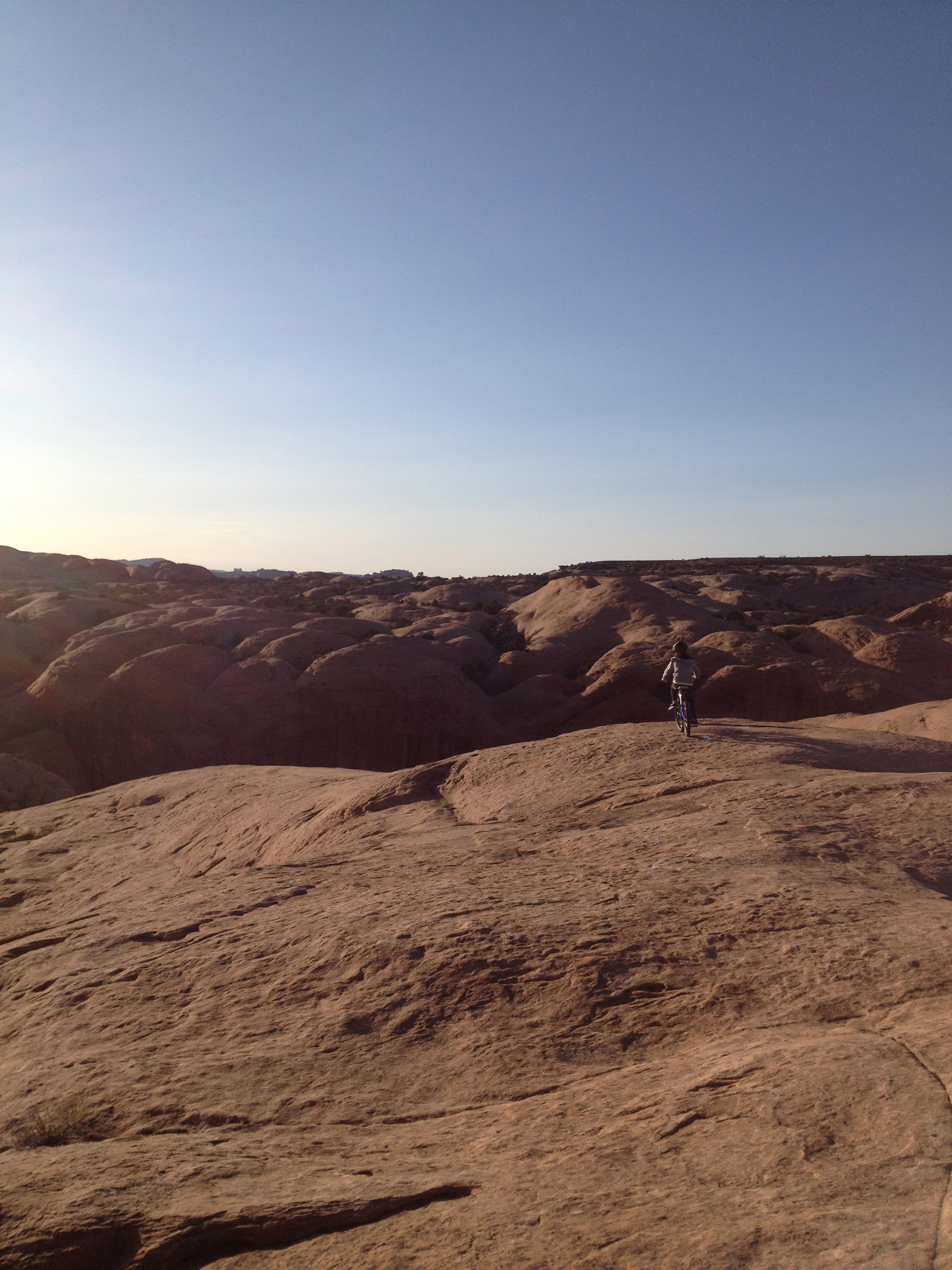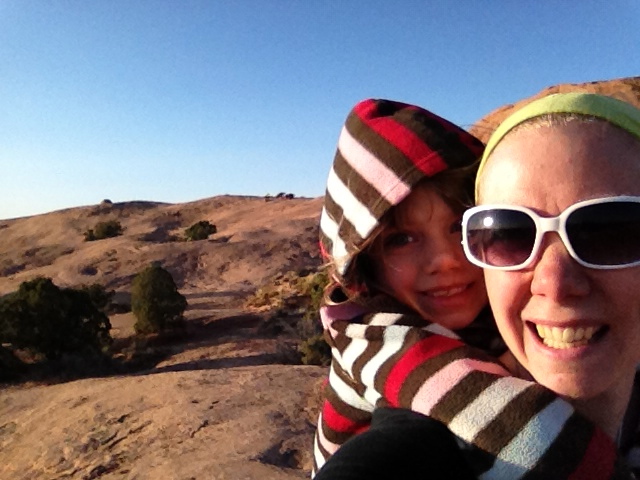 A 9-second video of Max riding an easy section on the practice loop. Click on black rectangle to get it to start. :)!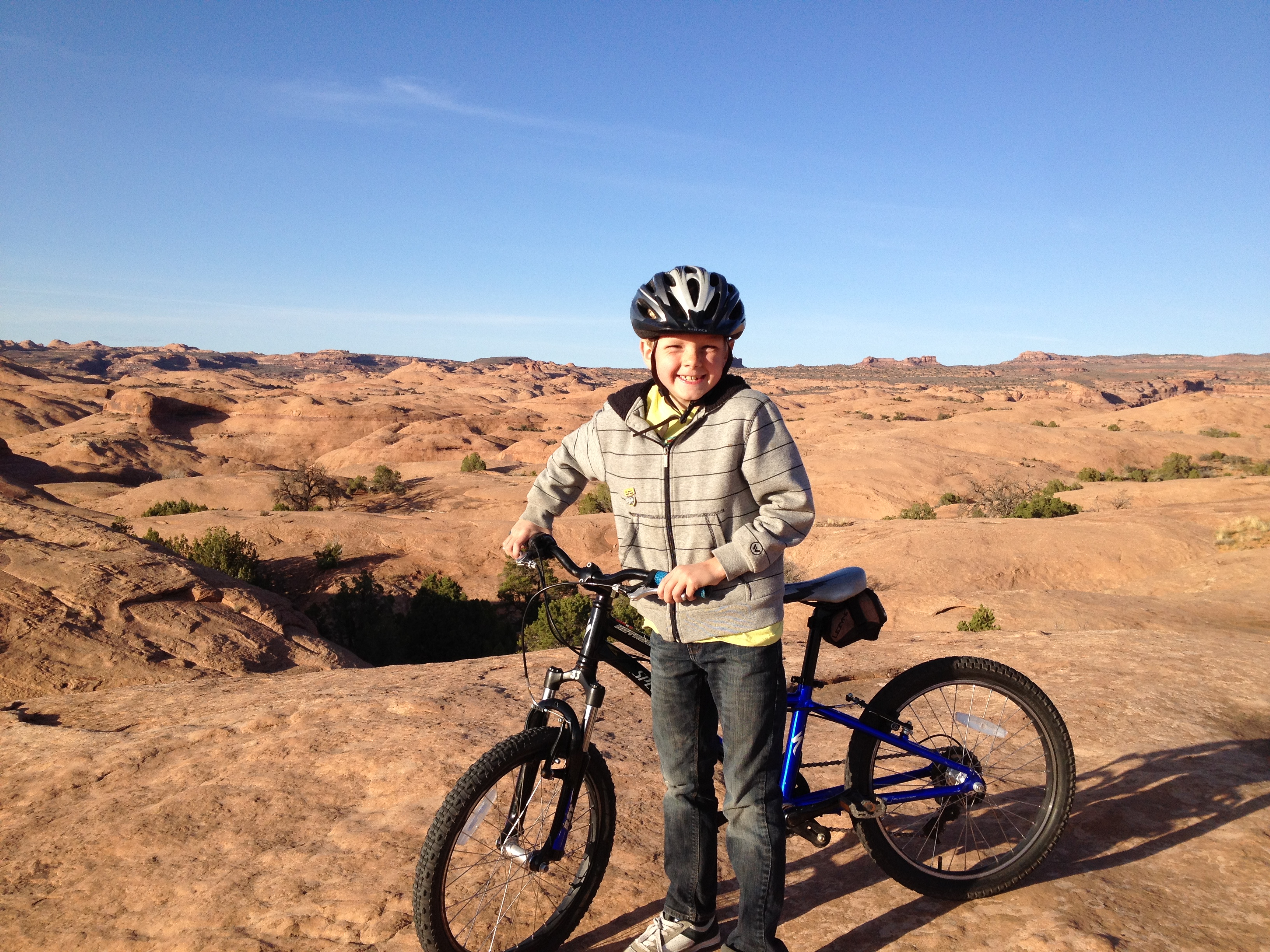 This is our 10 year old Max in the middle of the practice loop. It was incredibly difficult (it boggles my mind to think the real trail is harder!), he was working harder than ever (the ups and downs were no joke), it was crazy windy (see previous day's Looking Glass pics), but at this point he exclaimed with a beaming smile, "This is the best bike ride of my entire life!"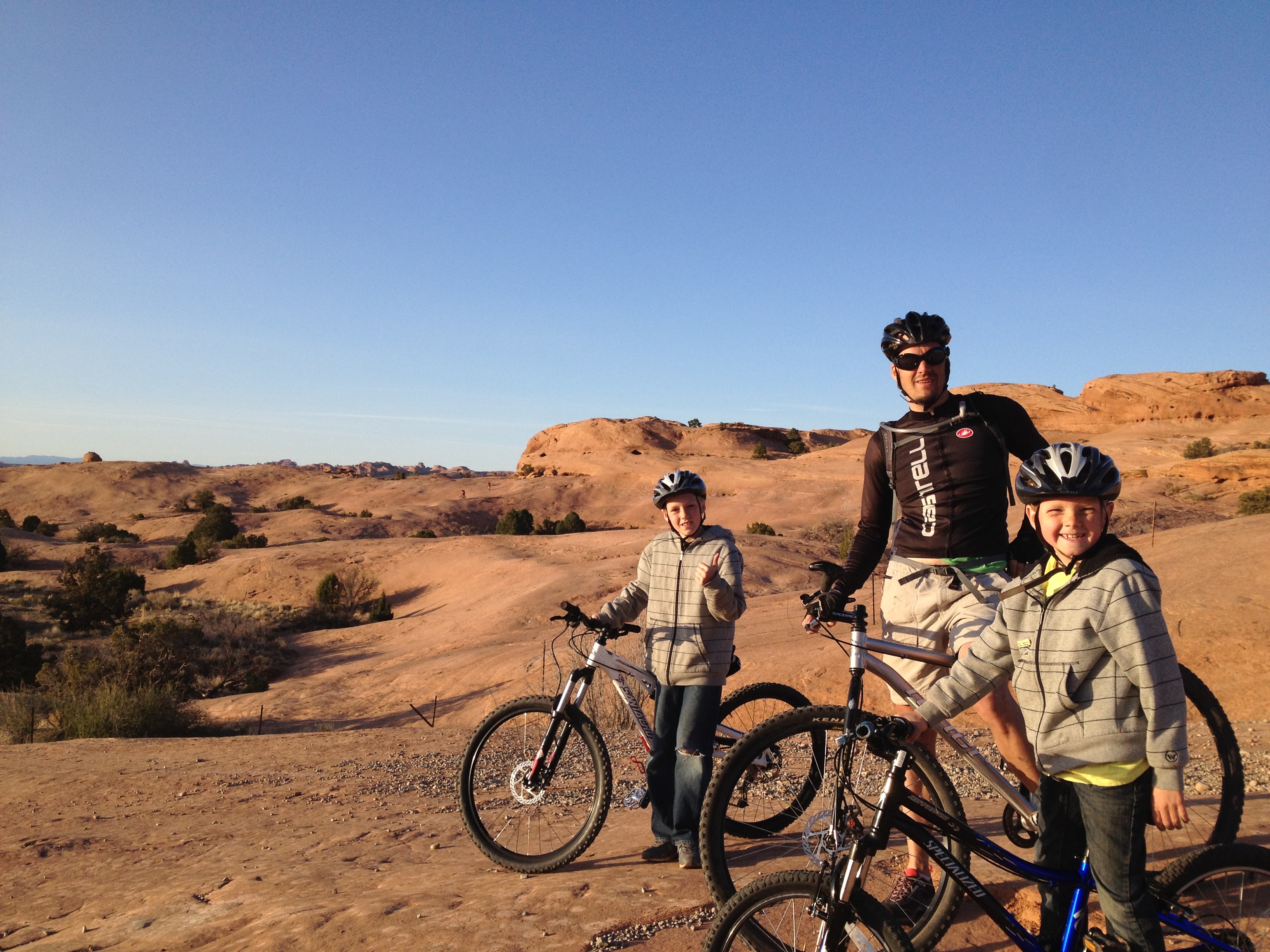 During our visit to Slickrock Bike Trail, Josh ended up going out for part of the real trail then I borrowed Zeke's rented bike and did part of the practice loop. If you couldn't gauge by the above elevation map, the aerobic aspect is intense and the undulations are extreme even on the practice loop. It wasn't their first ski resort trip but it was an extreme sport day, one that has never been forgotten and they are counting the days to recreate.
14 as of today.