January 24, 2015 - 10:02 AM
Travel Log: 4 August 2012
We enjoyed a month in IA before leaving for our month in Boulder, CO. During that time we enjoyed a skateboard competition, state swim meet, first ever week-long day camps and first ever week-long overnight camps, and a day of RAGBRAI. All the while, I was packing up for a month away, both physically and mentally.
The packing physically was, and is, second nature. I know how to mazimize the space in our Volvo and in our Yakima box, I know how to choose just the right amount of clothes for the kids and I, I know how to help the kids pick out the right amount toys to bring along, I know how to pack gear for climbing and biking, and I know how to pack electronic devices from laptops to routers. (And, if it does take place during the school year, I know how to pack for that, as well.)
Packing mentally was, and continues to be, an evolution of emotions for the three and me. Though they seem to be sporadic, our emotions do follow a process that can be charted of highs to lows to highs to lows to stabilization. The highs of the excitement of anticipation of going to a new location, the lows of realizing we will miss family and friends, the highs of the excitement of travel and arriving at our destination, the lows of realizing we will miss family and friends not being with us, to the stabilization that comes with settling into our new home, making new friends, and getting back into a normal swing.
During this adventure, unlike our previous travels to CA and UT where we stayed in vacation rentals that are generally decorated sparcely, we would be staying in someone's actual home. In addition, unlike our CA downtown adventure where we didn't have neighbors and our CA suburb adventure where you couldn't even walk on the streets, this Boulder home is in an actual neighborhood, very similar to our own home in IA, and is within walking distance to things like the ped mall, creek, and library. This part was crucial for us in helping make the stabilization process go more smoothly than it did in CA. However, unlike our own home, we would be staying in an art museum-esque, cottage-like in design but spacious in build, home. And the owner's caution of fragile things was remarkably understated. Oh my.
When we arrived to the house at 7:30pm, after a full 12 hours of driving, I went in hoping that I wouldn't have my normal freak out but once I walked in, I knew it was inevitable. The AirBnB photos captured the adorable qualities of the house but paled to capture the depth. It wasn't simply original oil paintings on the wall, kind of art museum-esque house. It was everything, everywhere. It was bronze sculptures and handmade Inuit dolls, African masks and embroidered doilies from South America, antique dining tables and chairs, and the priceless pieces covered every table, counter, corner, bed, floor, wall, shelf, ceiling, and ledge.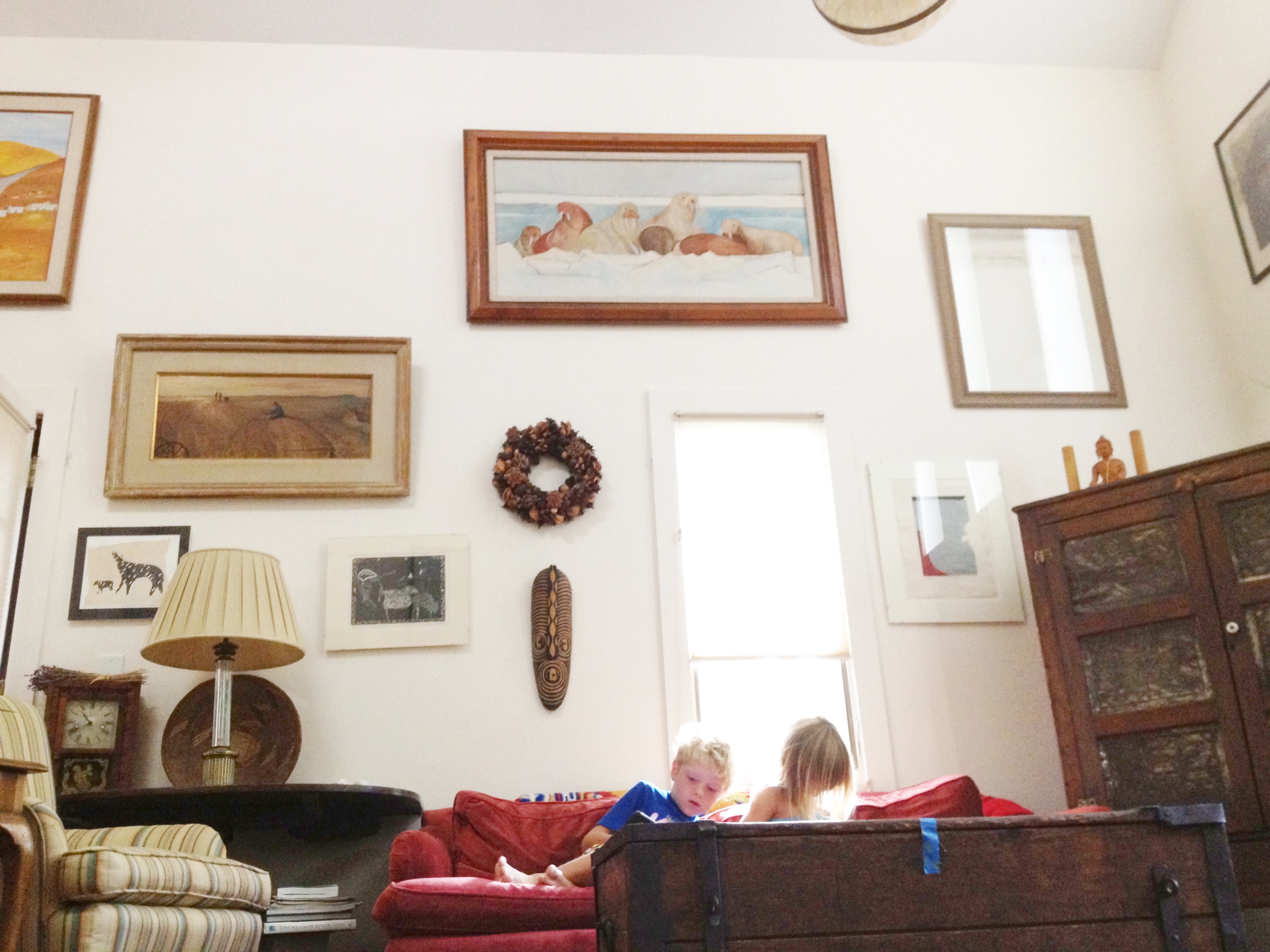 The home is long and narrow, with a spiral staircase reaching from the second floor master bedroom suite to the basement bedroom. Half of the main floor, the living room, is valuted and open to the second floor's loft area office. While the original construction of the home was early 20th century, the interior of the home had been remodeled in the previous two years with a perfect balance of refinishing original touches to adding flawless compliments, from the covered balcony / porch off the mater bedroom to the new claw foot tub in the master bathroom, then donned in priceless pieces.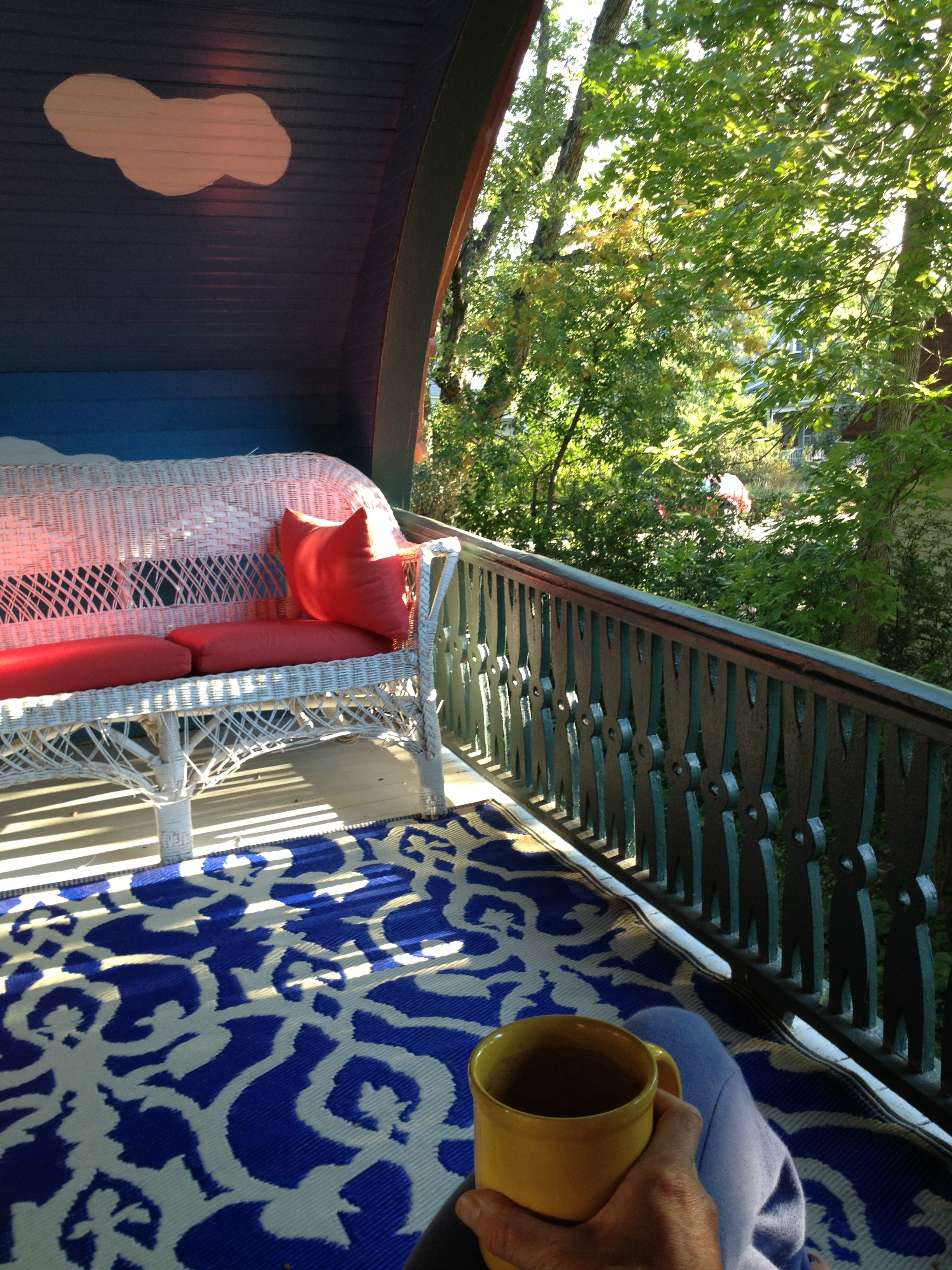 The alcove / balcony / porch from the second floor master bedroom where I spent every morning.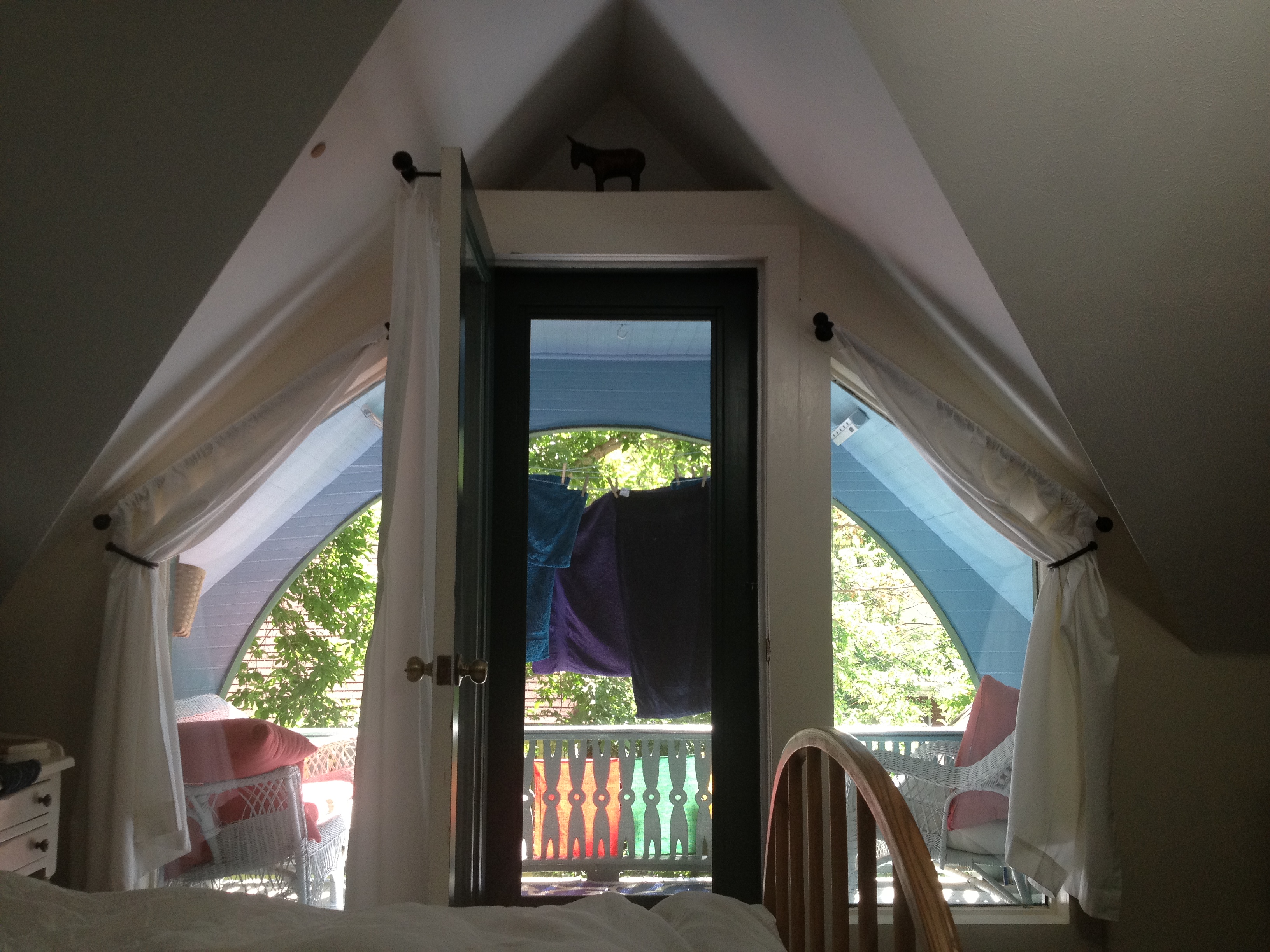 The view out to the alcove / blacony / porch with my laundry hanging out to dry.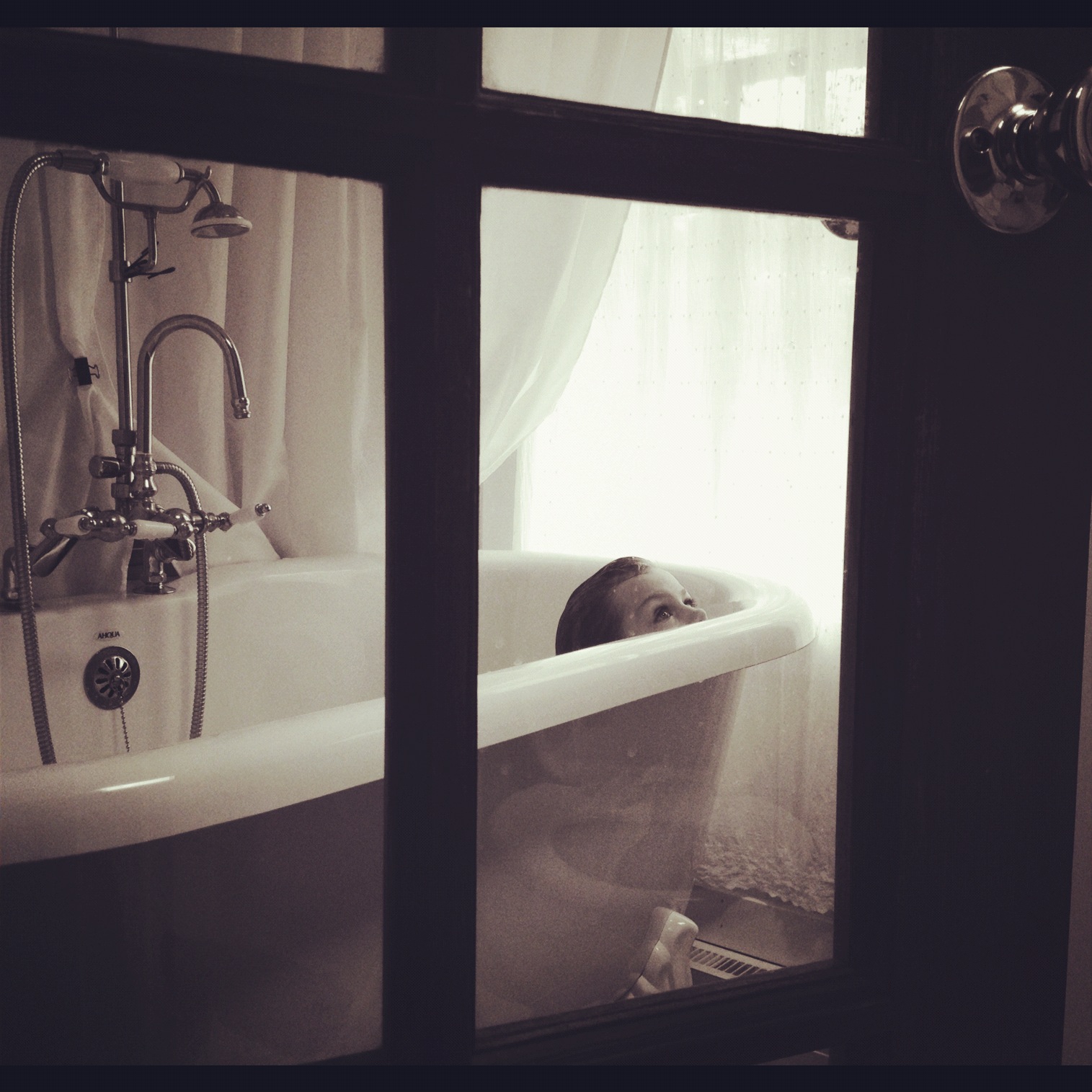 The master bathroom was everyone's favorite and this is one of my favorite photos ever.
The exterior of the home belongs in a Hans Christian Anderson story. The cream stucco finish with dark wood trim highlighting the high pitched gables was reminiscent of our time in Austria. And the yard. Oh, the yard. Long and narrow to match the house, surrounded by a dark stained picket fence, the landscaping of flowers and ground cover was expertly chosen and maincured - perfect for fairies to play. There is an arbor with grape vines and seating, a large patio with dining seating (that we truly used for almost every meal), an antique bench and minature Buddhist pagoda for more fairy play, and a perfectly placed rope swing on a sturdy little tree.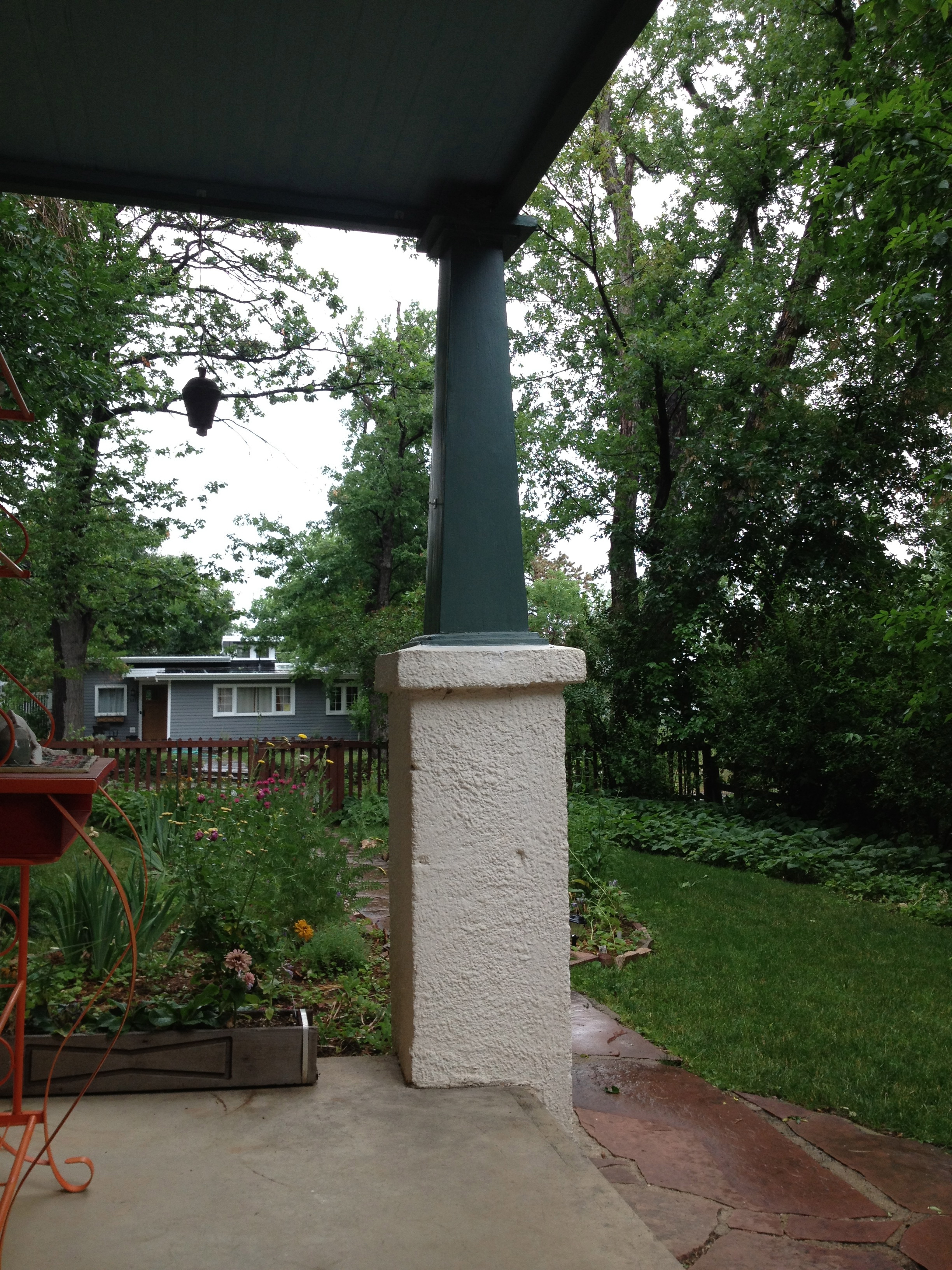 A rainy day bringing out the vibrant greens of the front yard.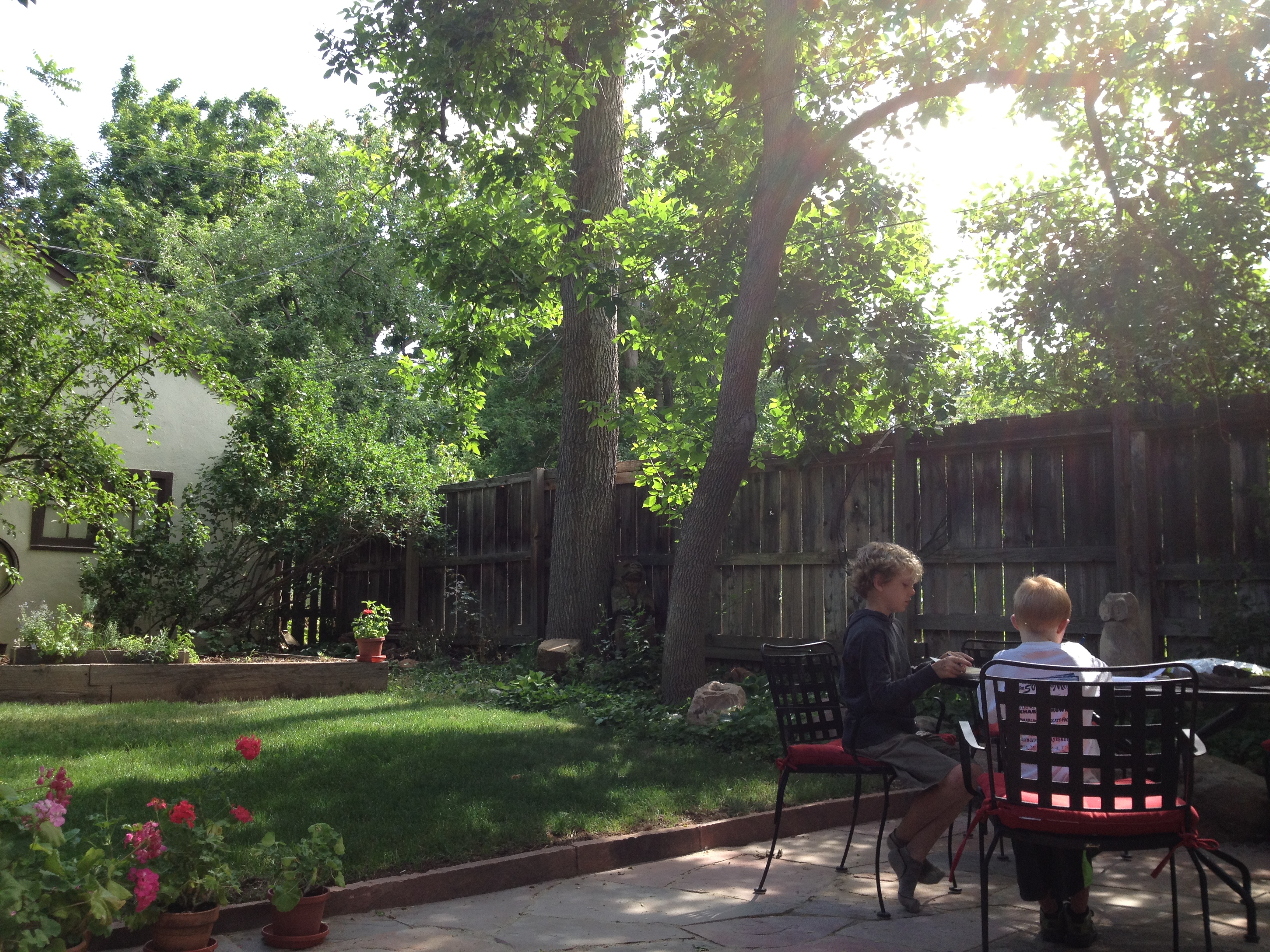 Having the adorable New Zealand neighborboy over for drawing on the back patio.
However, our first night in Boulder, even with the overwhelming beauty of the home, the sweet touches the owner left for us like breakfast and snacks (something lovingly common to AirBnBs and not so much to VRBOs), and the deeply felt thankfulness for safe travels, reality set in as our little one got hit by one of their massive migraines that bring both pain and vomit, and was brought on by excitement, altitude, and inadequate water intake. (Hence, why now we overly stress water intake, water intake, water intake, days before and while traveling when going to higher elevations.) That first night there, we were also thankful for how clean the home was in order to make the bathroom floor a bedroom.