September 10, 2014 - 7:44 PM
When we arrived home in November 2011 and life settled around us, we knew the "new normal" of traveling, experiencing new communities, schooling and working on the road, was only a reservation away, and by now our "travel every 4 months" time limit was up. To make things more fun, thanks to a glorious night of giggles and drinks, we (easily) convinced with a family and a couple to travel to Moab for Spring Break with us. New normal here we come!
Everyone had their own ways of getting there, but our specific travel plans worked into a work / play / work adventure that lasted 2 & 1/2 weeks. Specifically, we would spend 3 nights in Denver (while Josh had client meetings), 2 nights in Dillon (to (attempt to) go skiing), a week and a half in Moab (some spring break, some work), and then 3 nights in Denver (for more client meetings) before returning home.
Travel Log: 14 March 2012 - 17 March 2012
Don't get me wrong, I love my Nebraska friends, but I-80 through Nebraska, in our books, is over. It was over the first time we drove the kids across it. It was over when we drove home from CA. It was over now. We have since driven to Colorado all the way through South Dakota (beautiful Black Hills!) and all the way through Kansas (beautiful Flint Hills!) and we can justifiably say I-80 through Nebraska is over. (Sorry, Nebraska! :)!)
We stayed in a great hotel, right in downtown Denver, close enough for Josh's meetings but also possible for the kids and I to travel the city by foot or bus. My plan was to do our normal schoolwork in the mornings and then learn about Colorado history in our afternoons. One place we visited was the state capitol. We actually got to sit in on a meeting of congress where they were debating abortion legislation. Sitting in on a house discussion was a first for the kids and myself. Another observer whispered to me that the topic was not suitable for children, but seeing how this was a discussion we had at length ages before (yes, in their young lives), they found the forum intriguing and could follow along.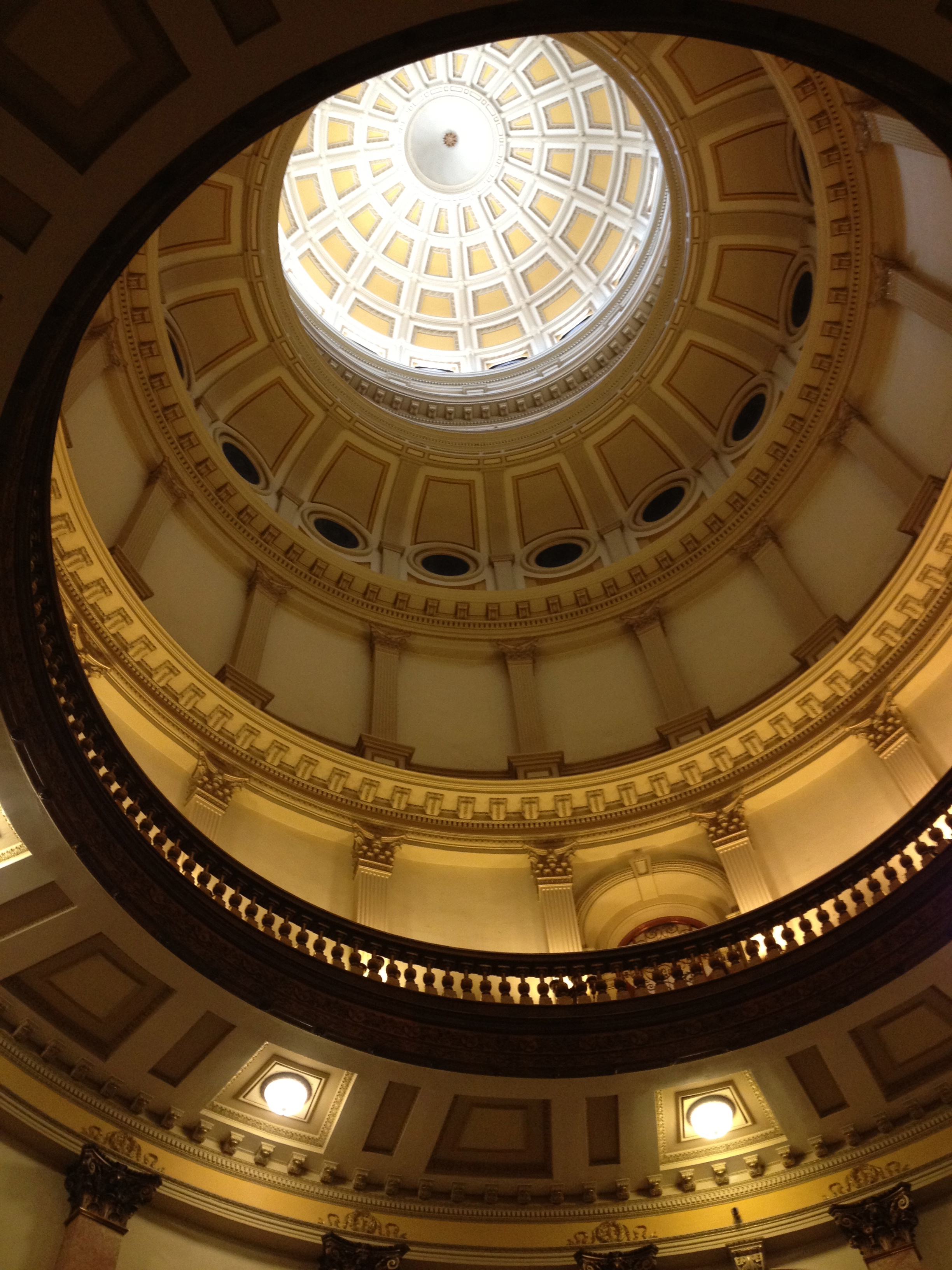 However, of our adventures around the city, our favorite was finding the most amazing Thai lunch place. Our kids LOVE Thai food with a passion. Thanks to Yelp, we had read of a tiny, and I mean tiny, Thai food cart, run by a one woman show, who serves food only at lunch (though, I read now she has moved to a storefront, :(!), who makes each order right on the spot, is as authentic as it comes in the US, and knows the definition of spicy. She was only open from 11am - 1pm and you were told to expect a huge line, but the reward was worth it.
The kids and I took on the wait challenge and when it was our turn ordered the baby spice versions for us and a nice spice version for Josh. She absolutely LOVED that the kids were excited about eating her food and was quick to give them free spring rolls and banana wrappers. Truth be told, her baby spice was almost too much for the kids, but there was no denying that the flavor was what dreams are made of and they happily ate every bite. Truth be told, we ate there for lunch two days in a row.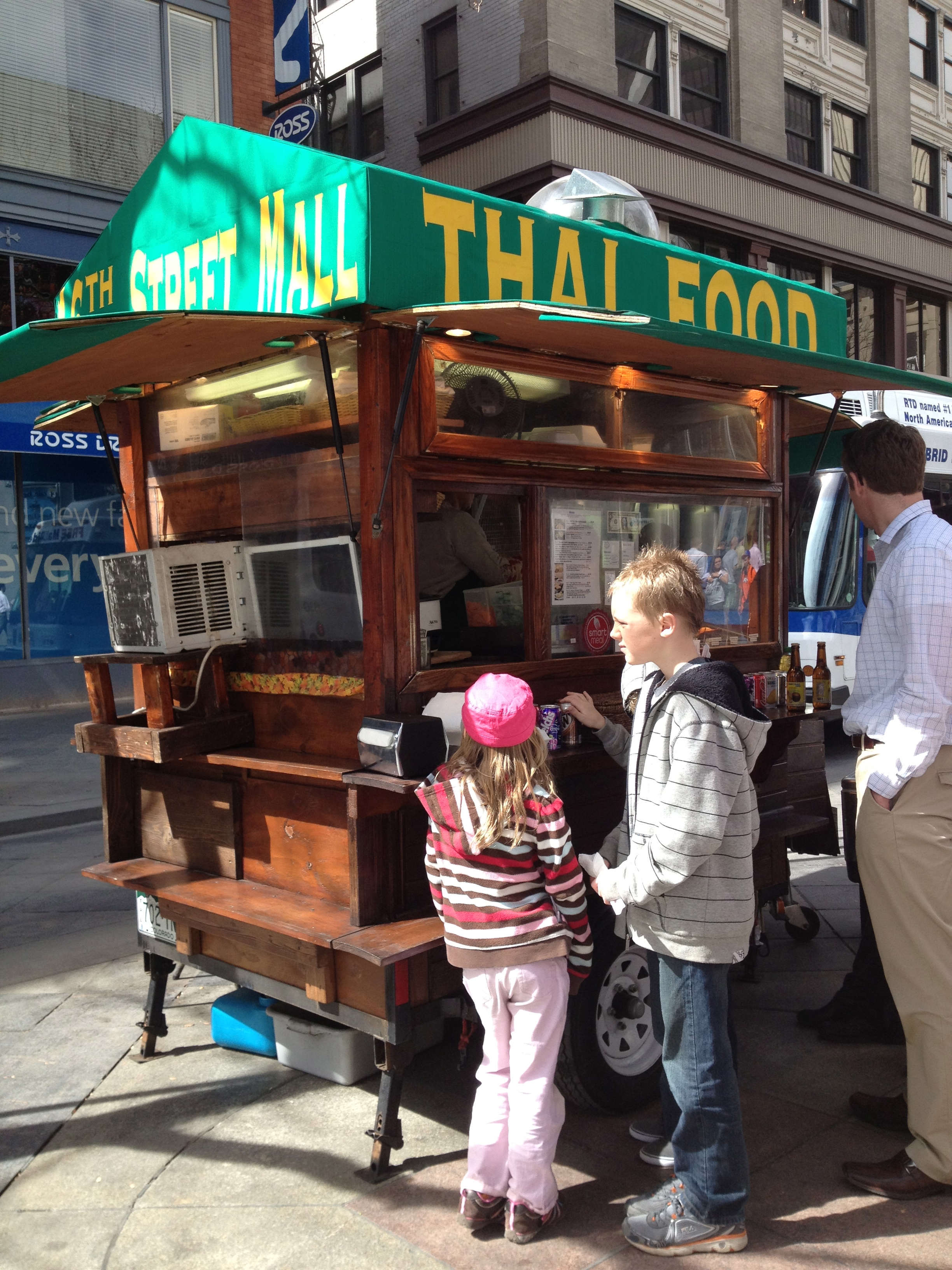 Travel Log: 17 March 2012 - 19 March 2012
Now that it was oficially the weekend, and technically the start of Spring Break, we had planned to take our kids to a day of skiing / snowboarding for the very first time. I had researched the cheapest nearest ski resort that we could take the kids to and figured out all the hoops we'd have to jump through to make it possible: renting skis, renting some clothing, renting goggles, etc. We planned Sunday to be our big day. The kids were pumped. We were pumped. It was going to be AWESOME!
We arrived at the ski resort a half hour before it oficially opened so we could get the kids enrolled in lessons, get gear, and what-have-you. When we got there we were informed that their power was out, their computer systems were (obviously) not working, their lifts were not working, and they had no idea when anything would be up and running again.
Not knowing what to do, we sat there, in the dark of their unheated lobby, for hours, waiting, hoping, something would turn on. Nothing. Finally, we decided to go to another resort but found out that it was going to be more expensive and they did not offer the amazing deals on rentals or lessons. Determined, we left there but tried to go to all the area rental places looking for better deals on the rentals so that the bite of the lift ticket would be easier to swallow. Nothing.
Brokenhearted, especially the kids, OH! especially the kids, we called time of death at 3pm, when we made our way to a local brewery and sadly ate a late lunch in near tears. This wasn't the way we hoped our spring break to start but as parents, having to play the responsible ones, we didn't want to blow our whole trip budget on the first day because of a random power outage. Skiing wasn't meant to be for us that day, for whatever known or unknown reason, and it was going to be ok.
The next day, OH! the next day, was our drive to Moab day. That made everyone giddy with excitement and all had long forgotten the previous day's fiasco. My husband, for the first time in a year and a half / since we went to Czech, turned on his auto-response for his email.
It was official - Spring Break had begun! :)!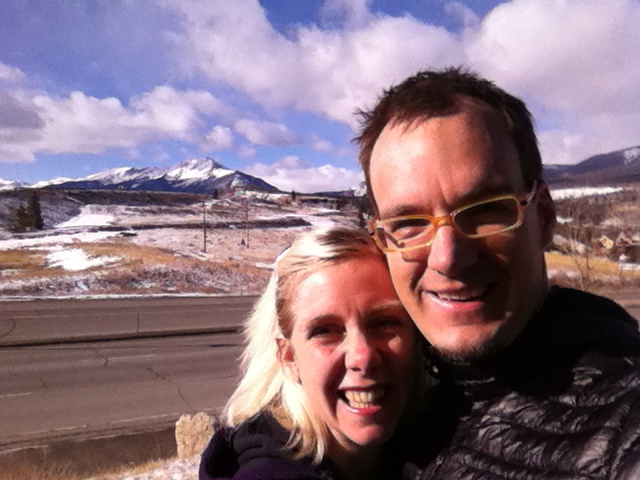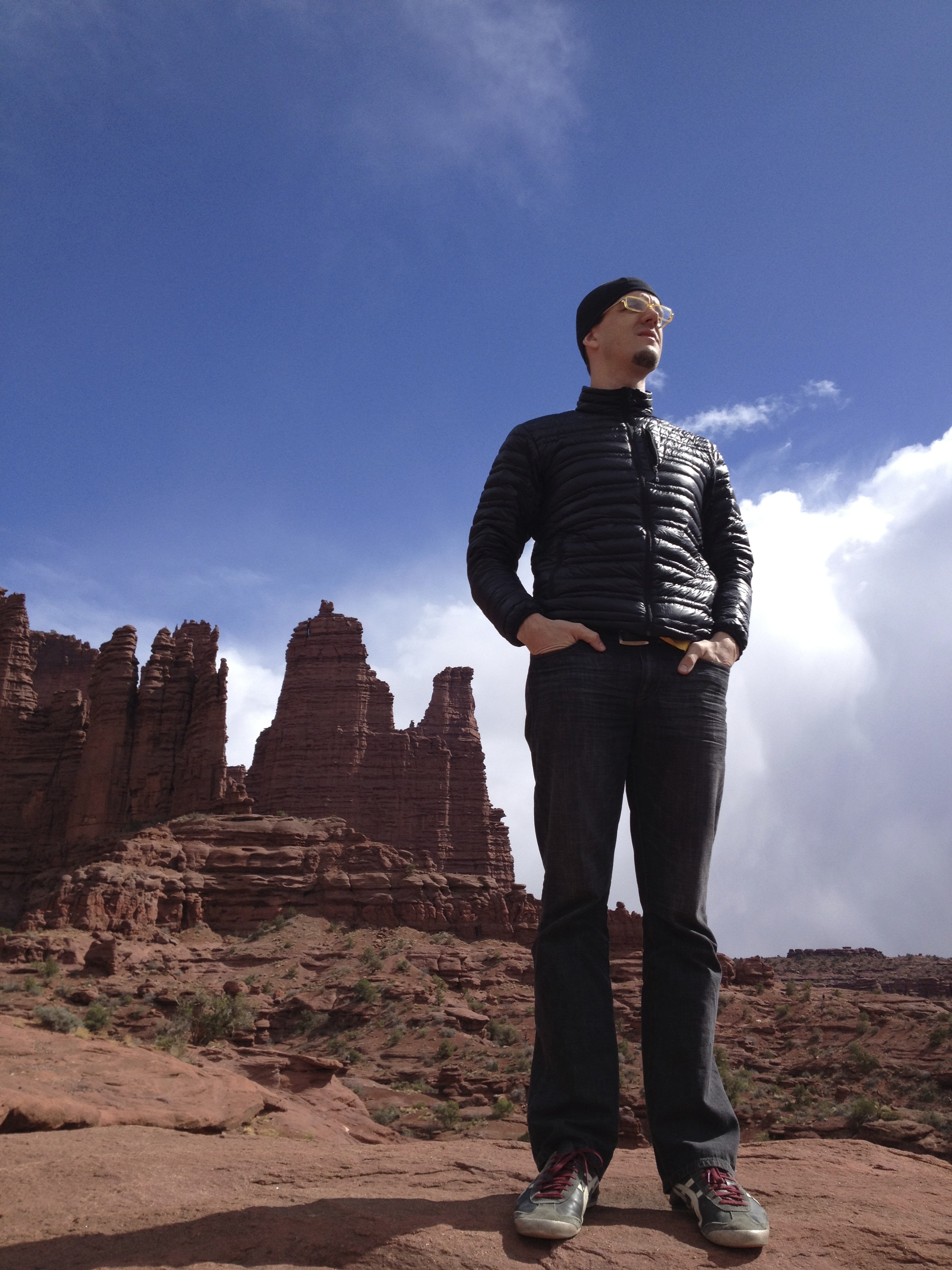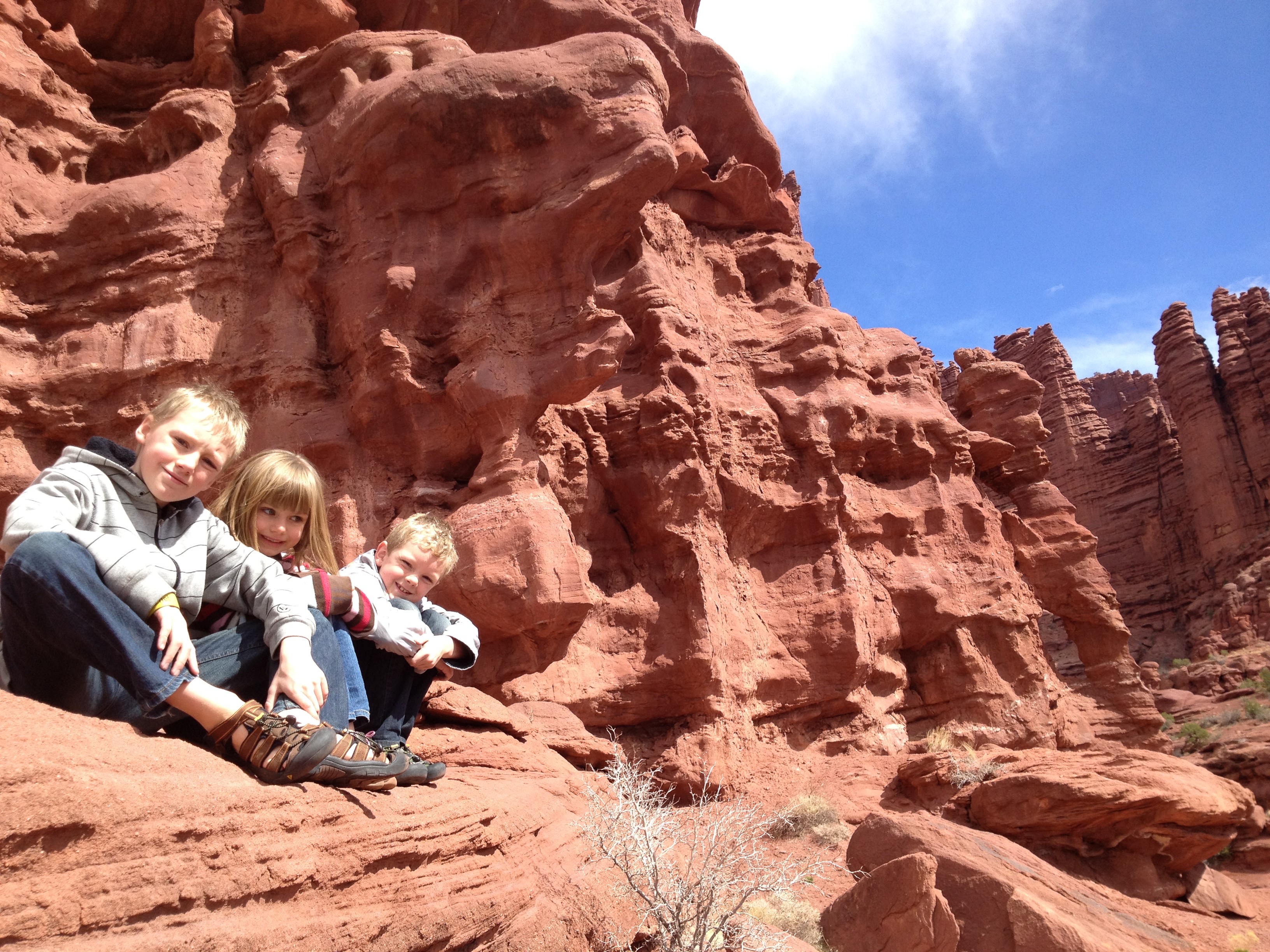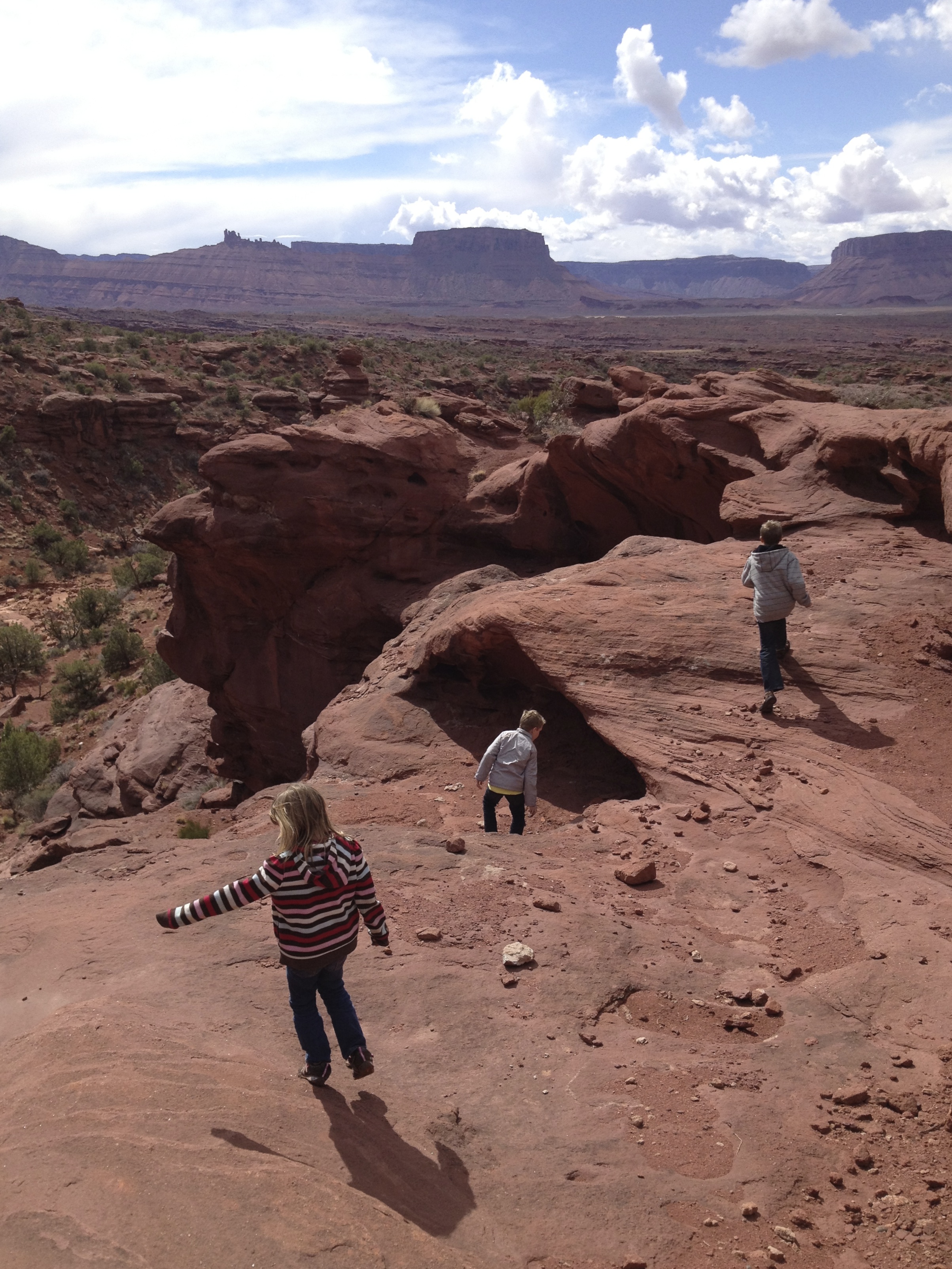 These photos are from the Fisher Towers area, along the back road to Moab.