January 7, 2015 - 12:11 PM
Travel Log: 1 July 2012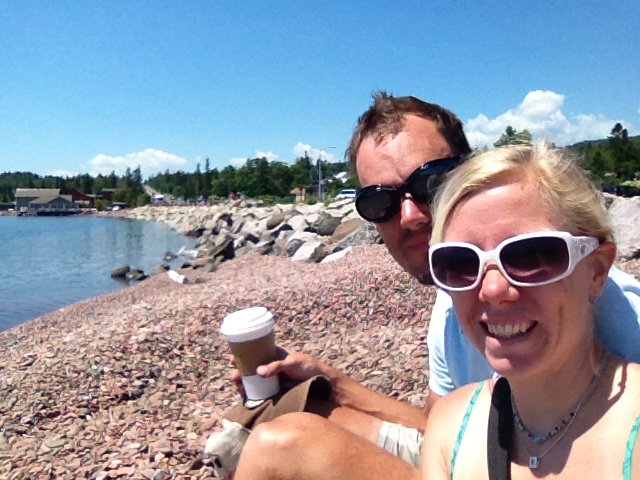 We weren't quite ready to give up the North Shore, but we couldn't stay in our current cabin any longer since they were booked, so we made quick reservations to stay a night at a familiar lodge located just south of Grand Marais. The Cascade Lodge has a history dating back to the 1920's but was primarily built as it stands today during the 40's and 50's. It was designed in what you would imagine as classic lodge style - a large rustic lodge with hotel rooms, having a massive great hall with seating (originally used for dining but now a separate building serves that purpose), piano, and board games, and a basement filled with arcade games and ping pong. It's funny to me that the whole set up reminds me of the show Newhart for some reason, :)!
They also offer a variety of sizes of log cabins for rent, which is where we opted to stay for this visit and where, 7 years earlier, Josh and I had stayed for a beautiful winter anniversary trip of snowshoeing. We jokingly wanted the exact same cabin we had before so we could see if they had fixed the wood burning stove. Someone, not naming any names, may have almost burned down our cabin the last time, charring the door's handle, ha!
Normally, when we travel to the North Shore, Josh is completely unplugged from work, it is a true vacation. However, for me, this day, the first of the month, I actually had work to do. Our administrative assistant was on maternity leave and I had to complete invoices. I set up a mobile office in the great hall of the lodge with my laptop and printer, while Josh and the kids enjoyed all the amenities of the area - hiking along the Cascade Waterfall in nearby Cascade State Park, playing in the lodge basement, and jumping into Lake Superior. Thankfully, they came back for me at the end of the day so that I could see the waterfall and witness their bravery firsthand...
We drove back up to town to have dinner at the infamous and delicious Sven and Ole's Pizza Joint and then drove to the lookout at the start of the Gunflint Trail in order to watch the sun set and listen to the bird calls, bidding us a final farewell to one of the most beautiful places on earth.