February 18, 2010 - 6:14 AM
One of the amazing jewels in the San Francisco / Bay Area is the Muir Woods National Monument located incredibly close to the city, just across the Golden Gate Bridge, and only a (beautiful) 15-30 min drive north. Hosting an "old-growth coastal redwood forest," I had read with Muir Woods it is best to go in the off-season & go after it had been raining; we nailed it on both accounts!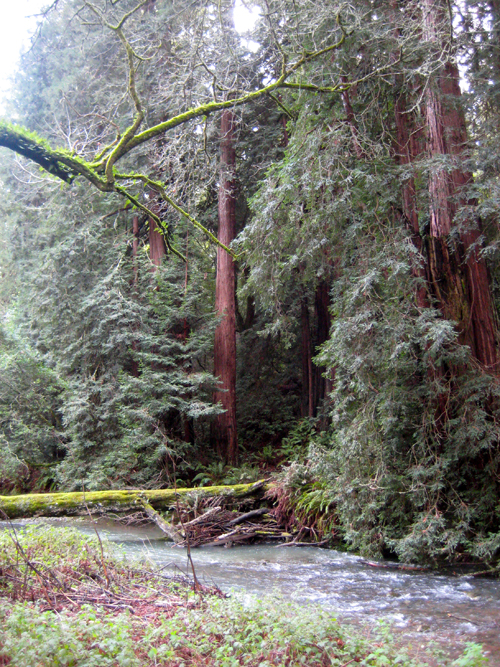 Trying to photograph the brilliance of the colors on the trees was impossible (though one with more skill than I could do it) and would prove the theme for the remainder of our time in Muir Woods - there are some things a basic camera with basic skills cannot do justice. We simply could not capture on film how amazing and dense and imposing and colorful the Muir Woods are. You have to see it for yourself.
The redwoods were everywhere and they were amazing. They grow in what are called "family circles," a series of 4, 5, 8, etc, trees all in a circle, and all towering high in the sky. While these redwoods are not as wide as the giant sequoias found in Yellowstone, fitting cars through, they are an impressive 6-8 (maybe 10) feet in diameter. Averaging 500 to 800 years old (the current oldest is 1200 yrs old), towering 200+ feet (the current tallest is 258'), some having half of their base missing due to wildfires - they are a sight to behold.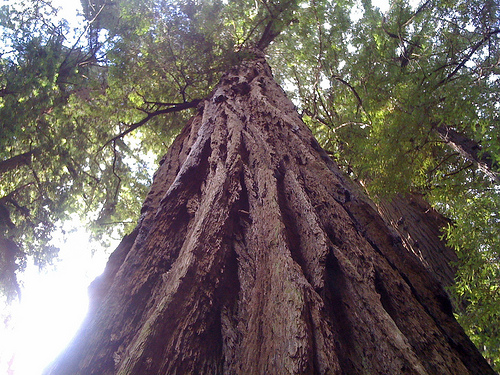 Thanks to a website, Trails, and talking with the ranger we found a good and short 4 mile hike that would allow us to see the ocean, too. However, what both the ranger and Trails failed to mention was that the hike would be straight UP for the first 2.5/3 miles, like walking up 3 miles worth of stairs with 6 to 12 inch rises (I know that is cake for some, but with my foot, it was a workout!)! However, to make up for it, the entire journey up was in a beautifully dense, towering forest.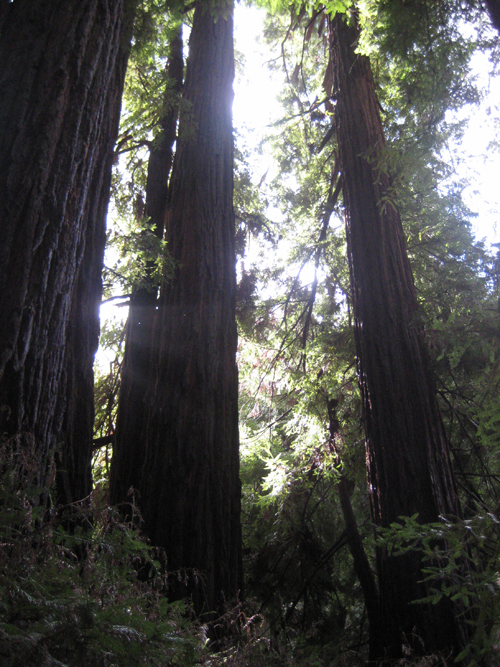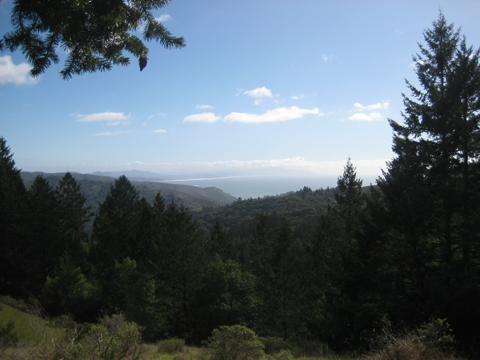 The other side of the mountain was a clearing, with rolling hills and pines, on down to the coast and then the ocean... breathtaking. The entire hike, the surroundings, the company, were refreshing to our bodies and souls.
Now originally when we were dreaming of where to go to celebrate our anniversary, we were planning on a hiking vacation to Costa Rica, Utah, or New Mexico/Arizona, somewhere warm. (Part of our rationale was my entire spring and summer from last year was not "normal.") However, due to this-that-and-the-other, we changed our plans to go on a whim wherever the cheapest plane fare would take us and San Francisco won. Before leaving I didn't know how the San Francisco area would meet our hiking/nature expectations, but the Muir Woods (and the whole bay / coast area) made an amazing impression on me, it truly went above and beyond my expectations.