February 15, 2010 - 6:00 AM
One of the sights I have always really, really (and I mean, really!) wanted to see while in San Francisco was Chinatown. Our first morning in the city we accidentally woke up at 5AM (7AM IA time), it was wet, it had been raining all night and was still lightly misting. We grabbed 2 HUGE drinks from Starbucks and right across the street was the "main entrance" to Chinatown.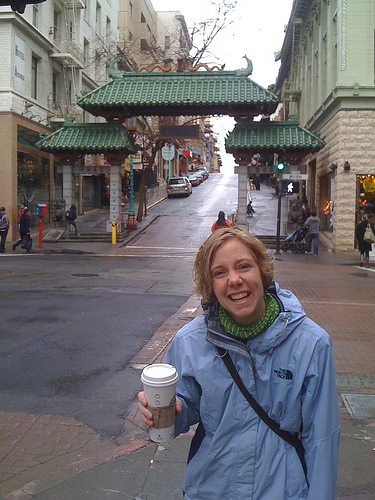 Maybe it was because I woke up at 5AM, maybe it was because it was now only 7AM, maybe it was because of the misting rain, maybe I was just undecided about everything, but standing there Josh asked me if I wanted to go in and I said, "Eh, no biggie either way." Josh said, "We'll come back, you'll see."
After a round on the cable cars to the bay and back, it was now late morning and we jumped off near Chinatown. This time we went in and I am SO, SO glad we did! Everything about our visit there was PERFECT! While I knew Chinese New Year was on the 14th, it turned out they started their celebrating this weekend. The place was already hopping with stores busting out their front doors from the Saturday morning shoppers and now roads were being blocked off from traffic, and extra vendors were lining the narrow streets.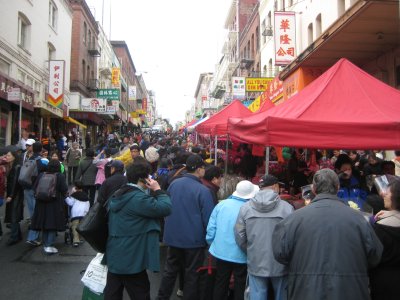 People, mostly elderly, were waiting in line for free containers of salt and boxes of pasta and coins. Oranges, large and small, orchids, long leafy vegetables everywhere. Smells of dried seafood, fresh seafood, even live seafood being sold from dripping suitcases on a street corner. Delicious cooked food wafting out of every store we passed, not to forget the two huge, delicious smelling pigs walking down the street. It was awesome!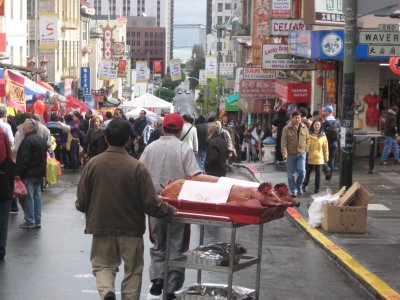 While in Chinatown we heard no English except when we happened into a non-Chinese place, this fancy, yet odd, little home decorations store. We were wooed in by a huge, intricate carving out of an ivory tusk. Two greasy looking guys sitting on a store couch greeted us, one in a suit and one with his hands in his pants. They seemed annoyed that we were there but said we could go upstairs, after they said we couldn't. Upstairs we found more carved ivory and mammoth tusks, ranging in price from $25K to $125K+. We were heading down when a 3rd greasy guy approached us and aggressively said, "I'll give you a crazy deal on anything you like." We're certain it was all a trick. ;)!
After that we wandered in and out of "grocery stores," the entrances to which were narrow, but they kept going back farther and farther. One started off with an assortment of whole fish alive but out of water, chopped up bloody fish, intestines and the like. A little further back there were frogs and large live fish swimming in tanks. Further back, larger tanks with larger fish. Then a little stall that sold door locks. Further still, live brown and white chickens & quail in cages. And then random storage, at which point we figured we should turn around.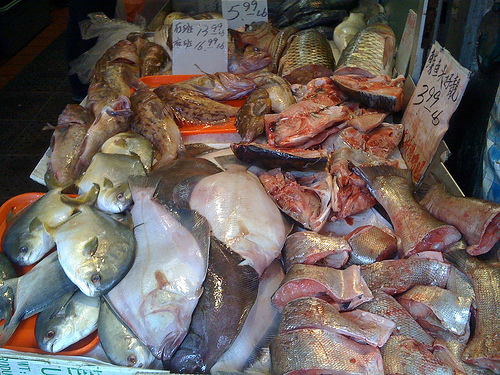 One of the things I really wanted to do was eat something, anything, in Chinatown. We passed countless places with whole roasted chickens and ducks hanging in windows, dim sum, and again, grocery stores filled with food, though nothing was written in English. I finally opted for an incredibly crowded place selling dim sum. People were crammed into this small space, everyone was shouting at everyone else in Mandarin/Cantonese, food was going this way and that. Josh wanted to leave but I was determined. While I wanted to try a Chinese tamale, I couldn't see them and I didn't want to lose my place by dilly-dallying, something I felt just wouldn't bode well there. I opted for dumplings because they were closest to me behind the glass. I made it out with 3 dumplings for $1.40 and I was mighty proud of myself. They were amazing!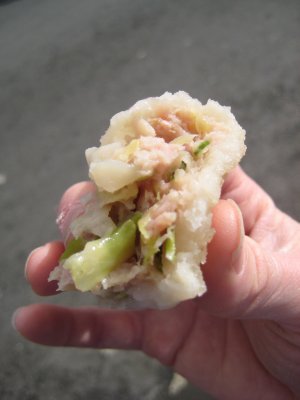 I am so glad I didn't opt out of going to Chinatown! I only wished I would've braved going back to the dim sum joint for seconds, or tried something else. *Sigh* I will have to save that for next time.