May 20, 2014 - 11:00 AM
This photo is on my living room bookshelf as a reminder of a worst day and best day.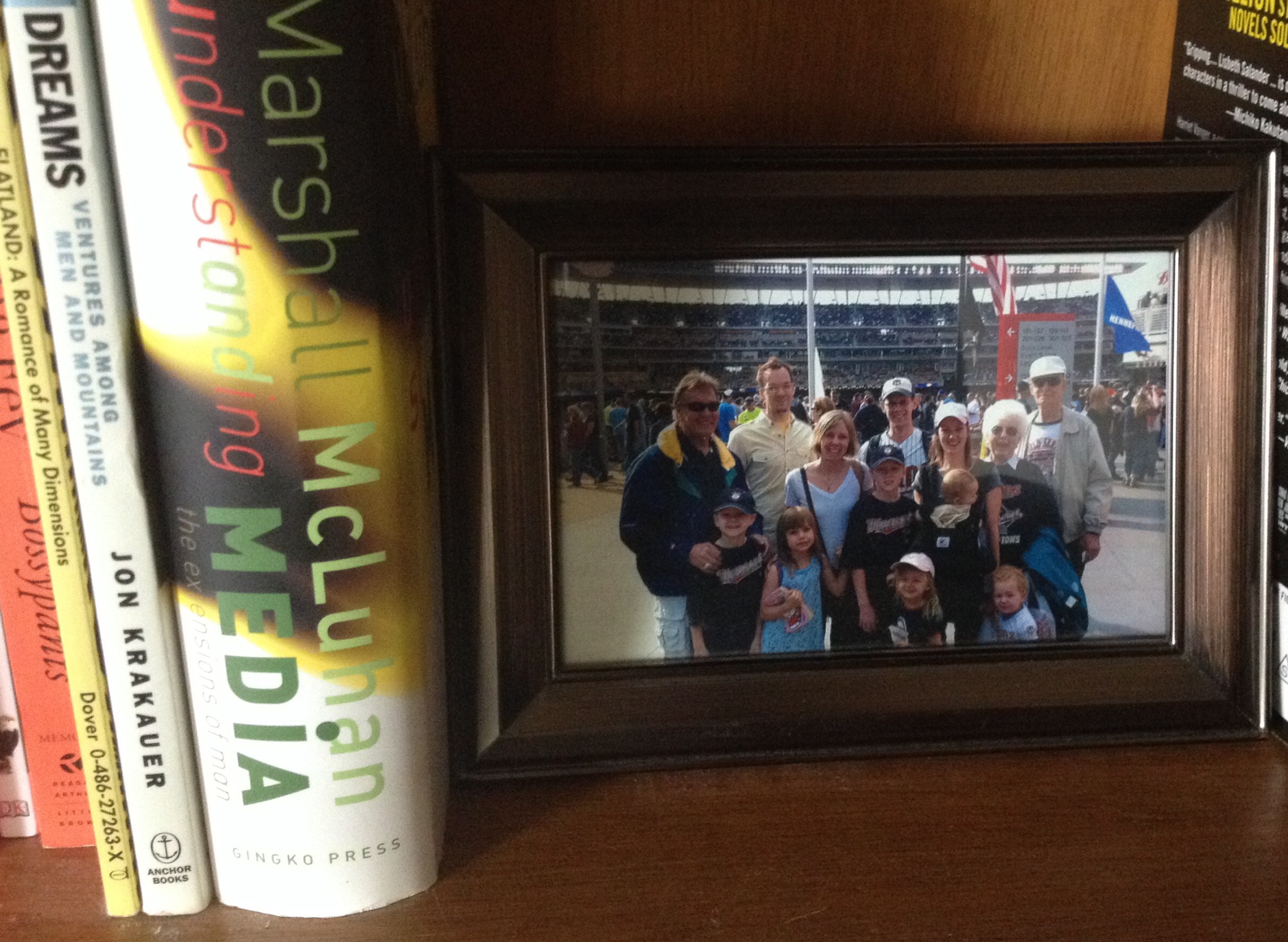 Look at all those smiling faces!
We had decided to treat Josh's grandparents to a Twins game with the whole Cramer family. (Oh!, how Grandma Elaine LOVES Justin Morneau, even if he now plays for the Rockies, :)!) We met up with his sister and her family of 5 (at the time, :)!) and parked our cars a safe yet close distance to Target Field in downtown Minneapolis. With 4 adults and 6 kids, we made the trek in two packs, the dads with some kids and the moms with some kids, and the kids changed groups continually throughout our walk.
We reached the final street crossing to Target Field by crossing over the Metro Train Lines just as it had stopped and started unloading cars full of passengers. We crossed tracks and turned left and walked toward the gates to figure out if it was the best one to use and all of a sudden my sister-in-law Maren turns to me and says, "Where's Miriam?"
"Where's Miriam?"
I direct my eyes to Josh, "Where's Miriam?"
"Where's Miriam?!"
"Where's Miriam!!"
I would like to think that my initial response was one of calm, collected, control. But oh no. I was in full blown freak out mode. I began screaming.
"MIRIAM!!!!"
"MIRIAM!!!!"
I could barely move from my spot. I was stunned beyond belief. My screams became more panicked. Josh and my brother-in-law Karl took off running in either direction. Maren huddled in a pile with her 3 kids and my two boys and began praying.
"MIRIAM!!!!!!"
A Target Field worker approached me, "Did you lose a child? Calm down. Can you tell me what she was wearing? Calm down."
"MIRIAM!!!"
I can't stop shifting my gaze from left to right and left to right.
*SWOOSH* Karl goes running past in the other direction.
"What is she wearing?"
"She's... um... wearing... MIRIAM!!!!... she's... um... wearing purple leggings and... umm... MIRIAM?!?!?!"
I can see what she was wearing in my mind, but I can't for the life of me get the words to form out of my mouth. Why is this person bothering me with this?
"What is she wearing?"
"She's wearing purple leggings and a cherry dress that's not red... MIRIAM!!!... She's wearing purple leggings and her dress is not with big cherries so it's not red but it's... MIRIAM!!!! She's wearing purple leggings... and a cherry dress that is not red..."
The Target Field Worker is on his walkie talkie.
"MIRIAM!!!!"
All I can think is, she's 6, we're downtown in a huge city, there are thousands upon thousands of people here, we're outside the stadium, anyone can hang out here, the train lines are right there... I just kept looking left and right and left and right... screaming her name... hoping to see her run toward me... time completely stopped.
"She's wearing purple leggings... MIRIAM!!"
I have no idea how much time had lapsed.
"We found her," says the Target Field Worker.
"She's wearing purple leggings? And a cherry dress that's not red?"
"We found her. Come this way."
"She's wearing purple leggings?"
"We found her."
They walk me half way around the stadium. I see her. It's really her! I hug her so tight as we both are sobbing uncontrollably. I have no idea of how long she was missing for, but for me, it was an eternity.
It turned out, when we had crossed the train tracks and turned left, Miriam didn't see us turn and kept going straight. She then thought we had gotten ahead of her and she took off running straight ahead, thinking she was catching up with us. Thankfully, Miriam was one of the only people NOT wearing Twins gear and a woman (aka gift from God) easily noticed this crying and running little girl, asked her if she needed help, and took Miriam to a Target Field Worker. Miriam was halfway around the huge stadium when she found her.
"You need to pay closer attention to your kids in a situation like this," says the Target Field Worker.
Well, duh. Each parent thought the other parent had her, we made a mistake. But I am forever grateful for God redeeming our mistake and returning our Miriam to us.
In my crumbling faith at the time, that moment was both the last thing I needed but also the right thing I needed. God was still in the midst of the swirling funnel I was in. He wasn't going to give me more than I could handle. He was still there even if it seemed so faint.
My world got to collapse one more time that summer of 2011. I can't write out that horrific story. But after it happened all I could do was cry out to God, "Something has got to change!"
Both moments remind me of the scene in City Slickers where they are discussing their best days and worst days and Ed describes his best day as his worst day. That was those two days for me. Each day I thought I had lost something so incredibly precious to me and each day those gifts were returned to me. Bad things happen all the time and "happy" endings are not always given, but given these second chances I was not going to give up on life and was going to climb out of the funnel - thanks to an undeserved tether thrown down to me by God.
But this is a travel b/log, why all the drama?
I wanted to set the stage. When we decided to run off to California, skip town with the kids, it wasn't all Lifestyles of the Rich and Famous, glam, and frivolity. It was truly a necessary step for where our lives were at the time. Just like how I felt guilty driving our "new" car, I felt guilty thinking about spending 5 weeks in California but just like that car was a gift, this trip to California would be a gift and would be the start to taking us on our family's new lifestyle path that would benefit us all as individuals but more importantly, as a family.