September 22, 2014 - 10:58 AM
"Be Bop a Do Bop, Back it up! Be Bop a Do Bop, Forward! Follow the trail of scat!"*
Travel Log: 19 March 2012
For my own remembering, I have to go back and fill in holes, like... Where did we stay in Moab?
When we went to SF we used VRBO to find our flat and house. For Moab we searched VRBO but came up empty handed. Josh then suggested checking Home Away and Flip Key. All three are similar in that they charge home owners a monthly fee to be listed on their site and, I'd guess, 70% of the rental homes are listed on all three sites. The winner for us this time was found on Flip Key.
We stayed in a new development area south of Moab, called Spanish Valley, that had pods of 4 condos together. Since we wanted all the parties in our group to be near each other, we were able to rent 2 condo units in one pod. Living 5 miles south of the city is not ideal but for this trip it worked out wonderfully. The condo area had tennis courts, basketball courts, pool, hot tub, playground, and a large garage to hold all our gear. It also had amazing views...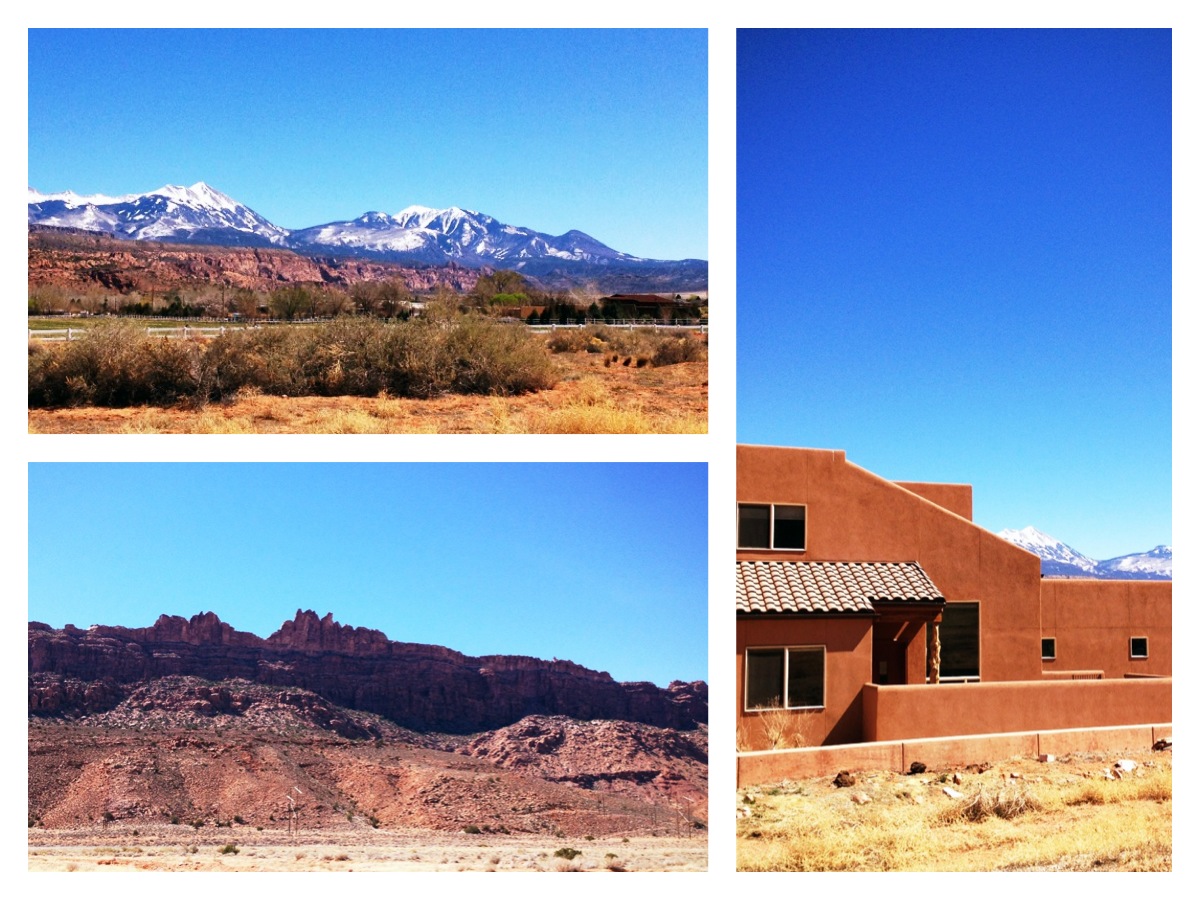 Top: View to the east. Bottom: View to the west. Tall: View of one condo.
Another thing I forgot to mention was... How did you pack it all?
For this trip we bought a new piece of travel gear: a Yakima Rocket Box. One week of this trip was Spring Break, i.e. VACATION!, and because of that we packed differently and needed to include two kinds of bikes, hiking gear, camping gear, rock climbing gear, skiing clothes, skateboarding gear, hot & cold weather clothes, as well as, schooling gear, working gear, and life gear. For our trip to SF we fit everything perfectly into our Volvo for one bike, schooling gear, working gear, and life gear (i.e. Oscar, our espresso maker). In order to bring all the additional gear AND keep comfortable space for the kids,!, the Yak Box was a perfect solution. In the two and a half years we've been using it, it has proven to be an amazing investment for us and our travel lifestyle.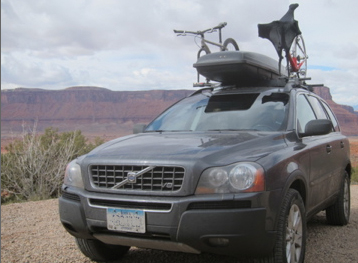 *"Be Bop a Do Bop, Back it up! Be Bop a Do Bop, Forward! Follow the trail of scat!"
Why fill in these details and why the above quote?
Back in college, my friends were obsessed with Mystery Science Theater 3000 and I humored them by watching one episode. The episode I watched was Season 6, Episode 1, for a movie called Girls Town starring Mel Torme. The quote that stuck out the most to me during the entire episode was, "Be Bop a Do Bop, Back it up! Be Bop a Do Bop, Forward! Follow the trail of scat!" I say this line so often in my day to day life, that my kids have even started saying it.
But you know what? That's not the real quote. For the last 20 years I have been saying that quote WRONG. (Skip ahead to 1:50 for the actual quote.)
This reminds me that my memories are flawed. Even though I said we rented this condo from Flip Key, I'm still not convinced it wasn't Home Away, though, I am confident it wasn't VRBO. And as I start to piece together stories based on photos we took from a mere two years ago, I am shocked I don't remember details where photos are missing. Those physical gaps have mental gaps, and for the life of me I simply cannot fill in the holes like I once could.
It stirs in me a strong desire to write faster and get caught up to today, so I don't forget today's life-filled, joy or pain inducing, precious memories... I don't want to forget surviving the 25th time someone has barfed in our Volvo or that I recreated the animal bark/howl sound that woke me up in the middle of the night for Josh at lunch. If I didn't just write that out, I'm confident those memories, too, would be lost to the holes in my mind.
"I'm fixing a hole where the rain gets in, and stops my mind from wandering, where it will go..." The Beatles
And, yes, I know FB wants that info from me, but I don't want to share my favorite memories with them. :)!