August 26, 2014 - 3:04 AM
Even though I had unknowingly confined us to the house throughout the week, our weekends were something else.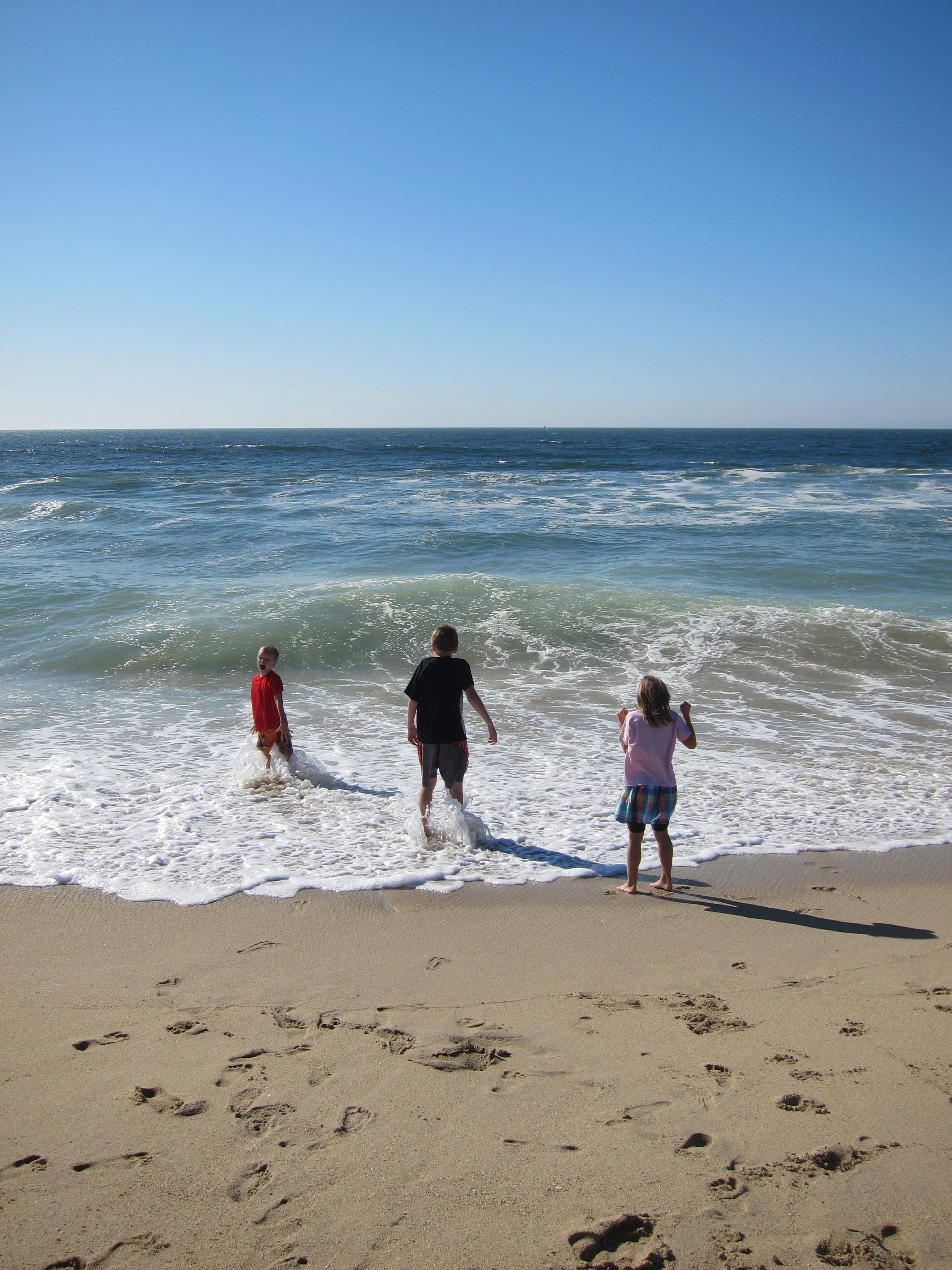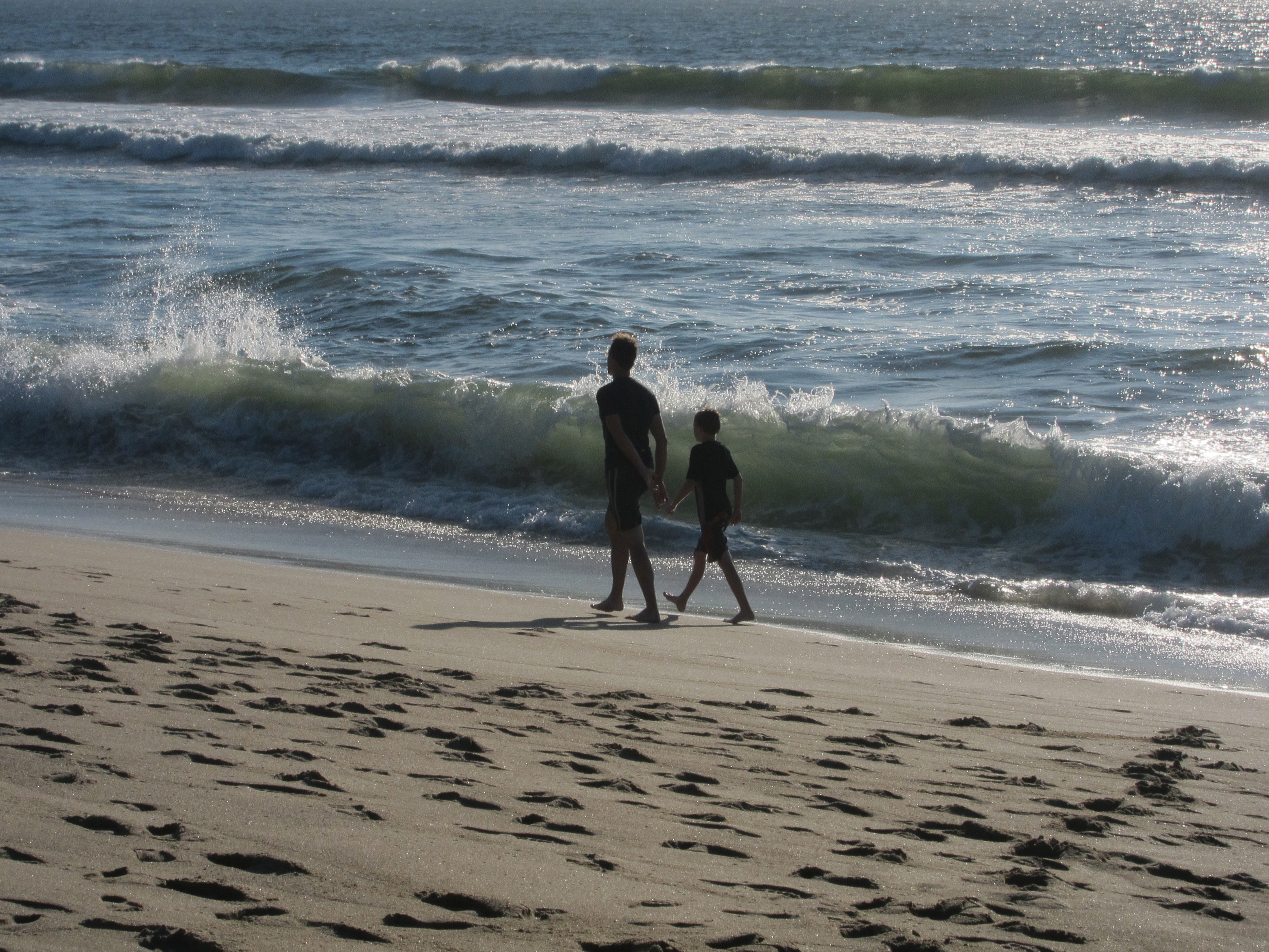 As I mentioned, our Sundays were usually biking, church, beach days. But what I failed to mention was the traffic. Copious amounts of traffic. Specifically, pumpkin-crazed traffic.
What you may not know is that Californians are crazy about their pumpkins.* We don't know what caused their pumpkin craze but what we did know is that the best road for us to access our beach/church was also the only road to access the pumpkin insanity. The highway from the interstate up and over the mountain to Half Moon Bay was only 7 miles long but the pumpkin traffic would stretch the entire distance, in both directions.
"What pumpkins? Where?" you ask. Just east of the town of Half Moon Bay, on one side of the highway, is a skinny stretch of flat land made skinny by a steep hill on its far side. It may be only a half mile along this highway, but this stretch of land was filled with millions of pumpkins.* Not pumpkin patches, just pumpkins sitting on a grassy field. And it is also filled with blow-up houses and blow-up races and Santa Clause, and apples and apple pies, and tractors and photo ops and horses, and more pumpkins, and more blow -up items, and people, and their cars. We have no idea where all these people came from or why they loved coming to this amusement park of an area, but the entire spectacle disappeared the weekend after Halloween. Vanished. Everything was gone, most importantly the traffic, leaving the barren, trampled on earth was able to breathe again.
What's odd is just south of Half Moon Bay there was an actual pumpkin patch, where people could cut their own pumpkins, and do you think that place garnered the same insanity? Nope.
But our Saturdays, oh, our Saturdays, were amazing field trips. The first weekend we visited the zoo in Oakland with some friends of ours from Sedona. Taking our kids to the zoo is like having your own audio tour. (That is, if you can keep up with them running excitedly from one exhibit to the next!) Even without reading the descriptions of animals, they can immediately identify the animals and tell a fun fact or two about each. While the zoo itself was nothing to blog about, it was a great place to spend the day with friends. The second weekend was going to the before mentioned tidal pool, seriously, a m a z i n g. Trying to spy as many different species as they could, trying to find a rare fish, it was amazing. Amazing. Best word to describe it.
The third weekend we would venture down the coast to the Monterey Bay Aquarium. Here again, we were so envious of the opportunities available to those who live near by, middle school and high school students were able to volunteer at the aquarium for an unmatched experience. Because the aquarium is as much a research facility as an educational facility, there are countless hands on exhibits.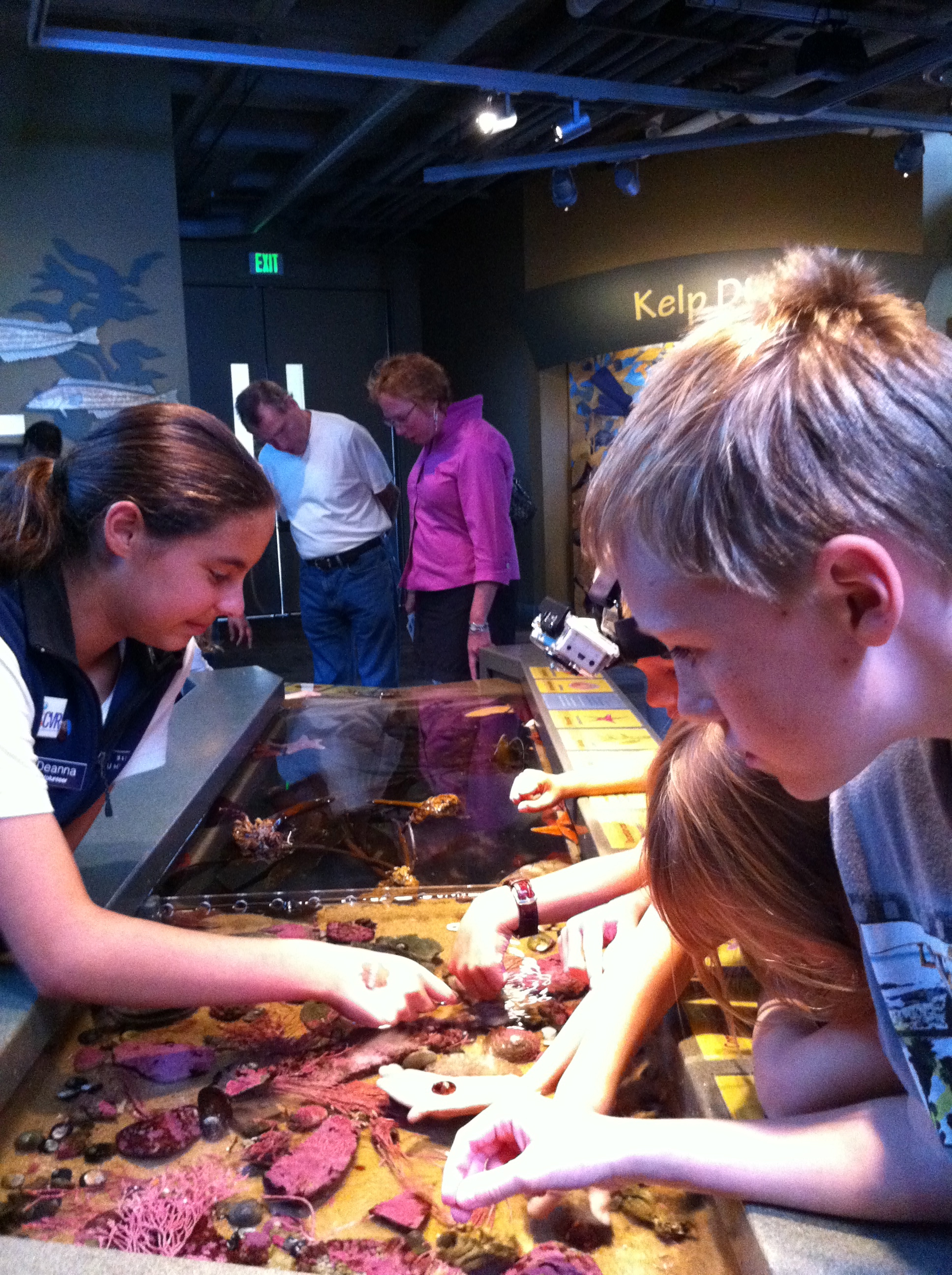 Hands on exhibit led by a high school student.
Two of our favorite exhibits were the "Open Sea" and "The Jellies Experience." The Open Sea is a 1.2 million gallon tank that boasts the world's largest single paned windows and reaches 90 feet tall. Inside the tank are ocean sunfish, hammerhead sharks, blue fin tuna, a school of anchovies, and sea turtles. The ocean sunfish were the most spectacular to see in real life because this is the first captive group and because you simply could not get over their scale (even knowing the water makes them seem larger).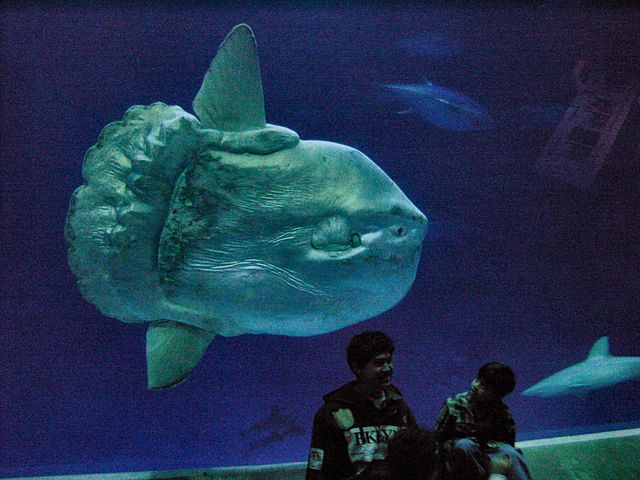 (Unfortunately, I can't access all my photos of this trip. Thanks, Fred, for uploading this!)
The Jellies Experience was partially finished upon our visit. It was mesmerizing to view these curious creatures with no bones, brains, blood, teeth, or fins and, at the same time, who are one of the most feared of sea creatures. The only decoration in the tanks are the jellies themselves. The solid color backdrops highlight their shapes, tentacles, colors, or lack of colors.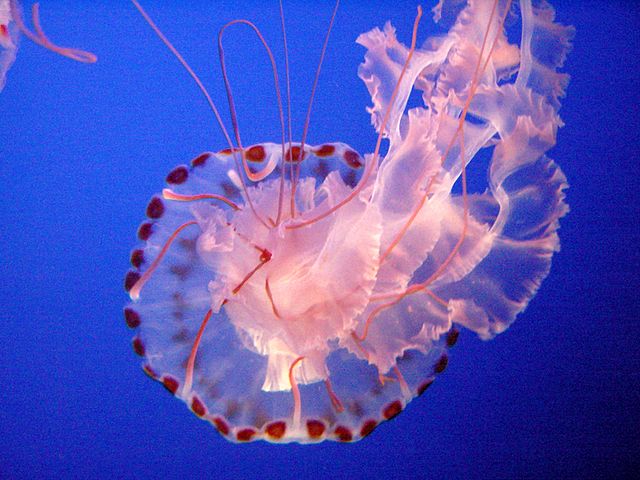 From the zoo to tide pool to aquarium, our kids' science world was bursting from the seams. I did end up changing the focus of areas of study for our science lessons because the ocean was calling our names once again. We were hooked and new documentaries and books were to be experienced! I only wish we could have easily returned to these places to soak up more hands on knowledge.
*Gross exaggerations, but close. :)!
OH! And speaking of Halloween! For the first time ever, I bought the kids costumes at Target because I was without sewing machine. They went as Cleopatra and her mummy guards. Pretty cute for cruddy pictures! :)!