September 25, 2014 - 3:45 PM
Travel Log: 22 March 2012
Our "rest" day was wonderful, but let's get back to climbing! Climb ON!
Today, we planned for an all day of slab climbing in the Kane Creek Canyon on a piece of wall called the Ice Cream Parlor. Kane Creek Canyon is just west of the town of Moab. What starts off as the paved road of Kane Creek Boulevard running along the Colorado River becomes a gravel road as it diverges south. The narrow, twisting, dirt road quickly drops you lower and lower into Kane Creek Canyon. The trickiest section of road is so narrow you have to pay attention to traffic coming from the other direction. Safe passing areas are few along your descent and backing up along the steep cliffs would be a risky maneuver. For being a remote location, the road is frequented by jeeps, atvs, and motorbikes, as well as the massive trucks pulling flatbed trailers to drop off those vehicles, as well as random groups of campers using the charming, buried campsites along the canyon, and to top it off climbers, groups of friends, like us, or large climbing tour groups and their vans.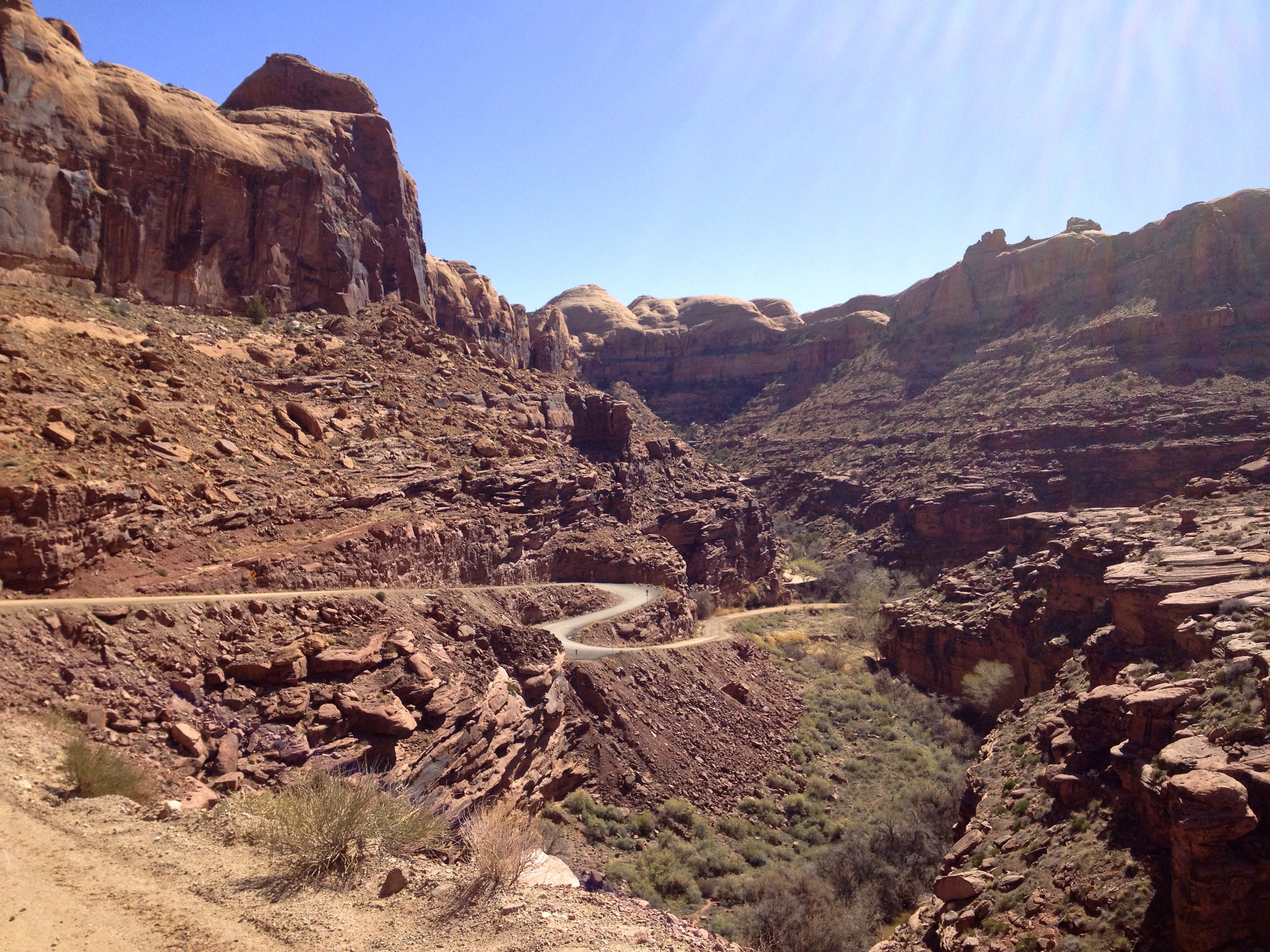 Like the spot in Donnelly Canyon, we chose the Ice Cream Parlor for its family friendly nature. You can park your car right at the bottom and have a "short" walk up the boulder field to the base of the breathtaking red wingate sandstone. The routes range from trad to sport, from 5.5 to 5.12, from 40' to 220', and, unlike the ever popular Wall Street on Potash Road where your belayer is standing ON the white line of a highway, this area has a "safe" waiting (aka play) area for little ones.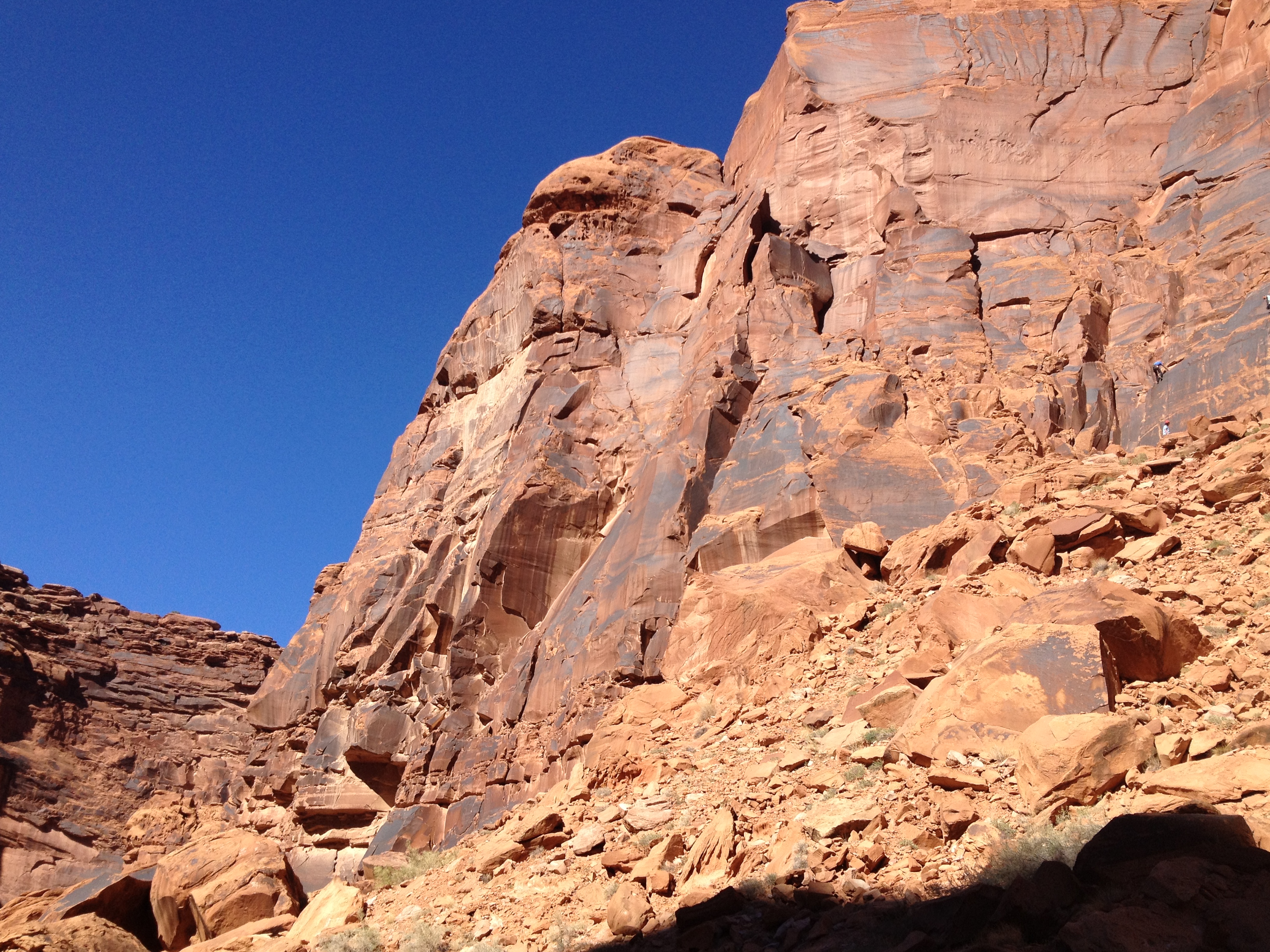 This photo was taken along the trail up to the base of the wall. If you look to the middle on the far right you can see Josh's blue shirt up on the wall.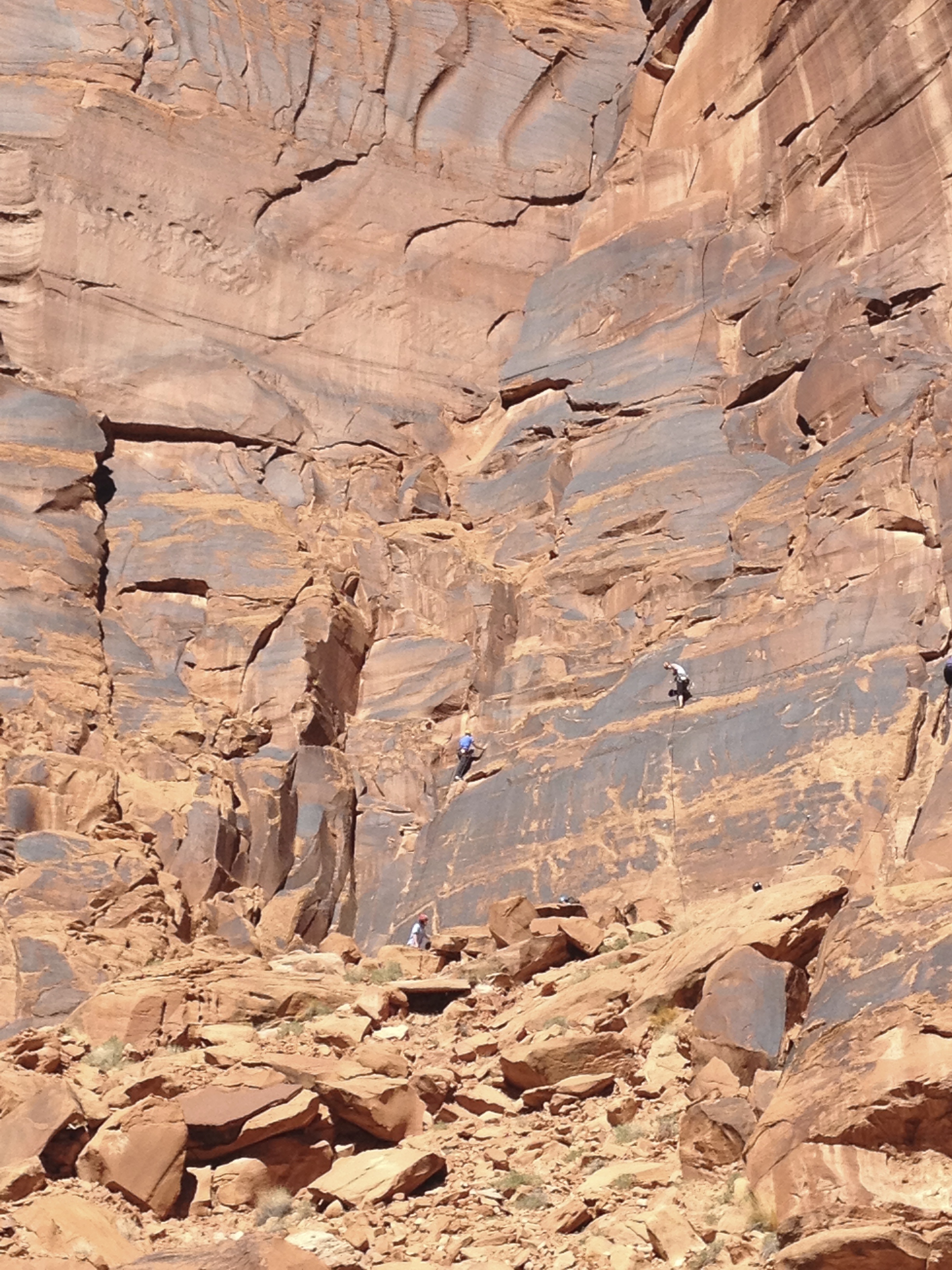 Josh (in blue) going up 5.6 Corner a 50' tall trad route. The other climber to his right is on Parlor Game.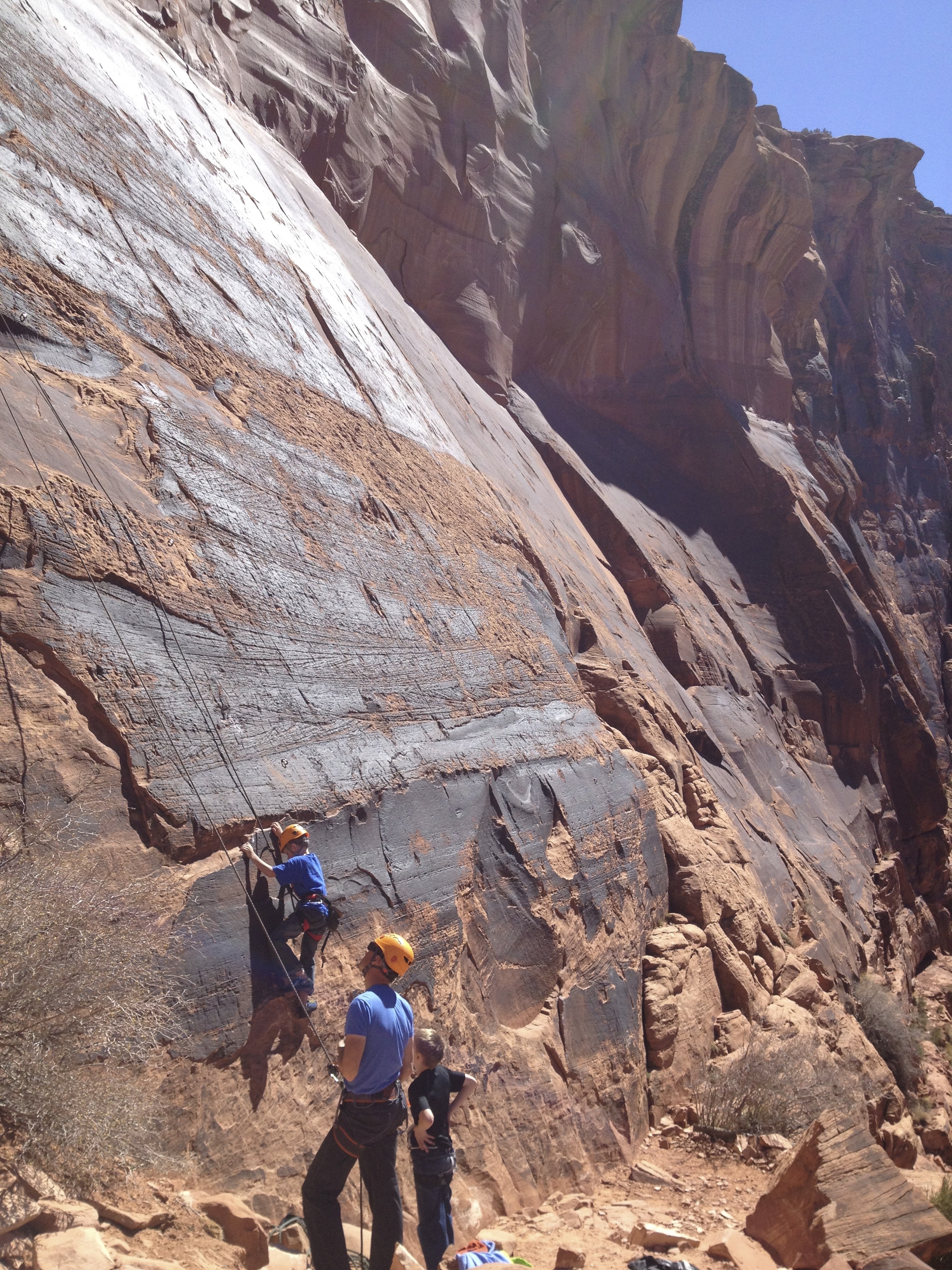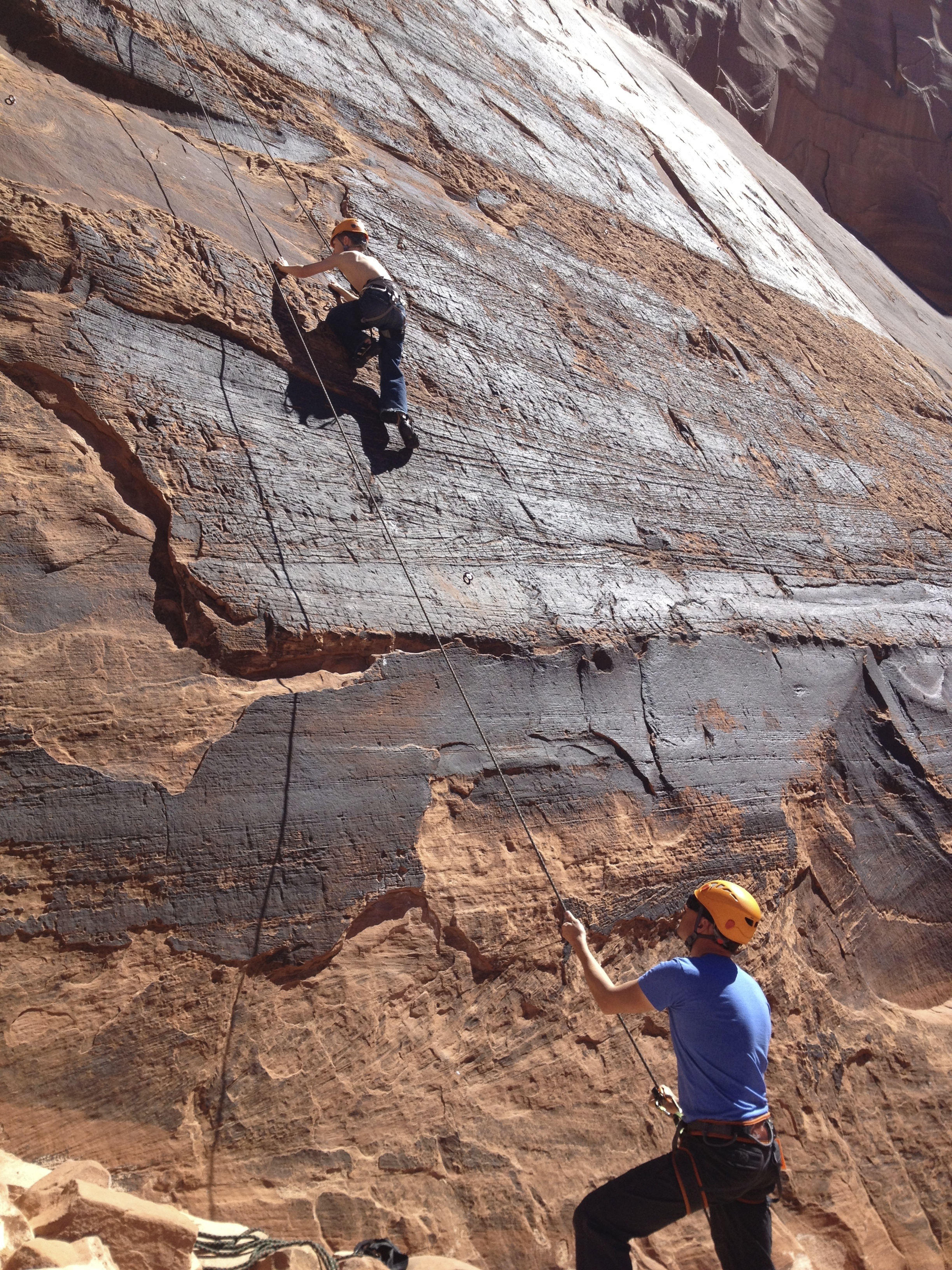 Max (top) and Zeke (below) starting on Black Slab 5.6 (which is actually a 5.7), 50' tall, sport route.
The Ice Cream Parlor is also a wonderful place to climb because all the routes are within 8' of each other. We picked a home base and then our talented friends were able to set up multiple ropes so that everyone had the ability to climb often. From a simple 5.5, 40' tall, sport route called Brewed Awakenings to a 5.7+, 70' tall, sport route called Slab Route 5.7 to a 5.9, 50' tall sport route called Parlor Game. (See, once again, some creative names, some not so much, :)!)
What you may notice in the above photos is the darker, almost black areas on the what-you'd-expect-to-be red sandstone. These black areas are called "desert varnish" and is a blackish manganese-iron deposit that forms over many years due to rain and bacteria. (This desert varnish is a popular surface to find the Native American petrogylphs drawn into.) The climbing routes on these flat, black slabs are slick and are at a 65-85 degree angle, and, as is typical in slab climbing, the climber has to trust in their footing and friction because they have only the tiniest of hand holds at their disposal. Once again, this type of climbing was a first for us and the boys, but it was a fabulous experience!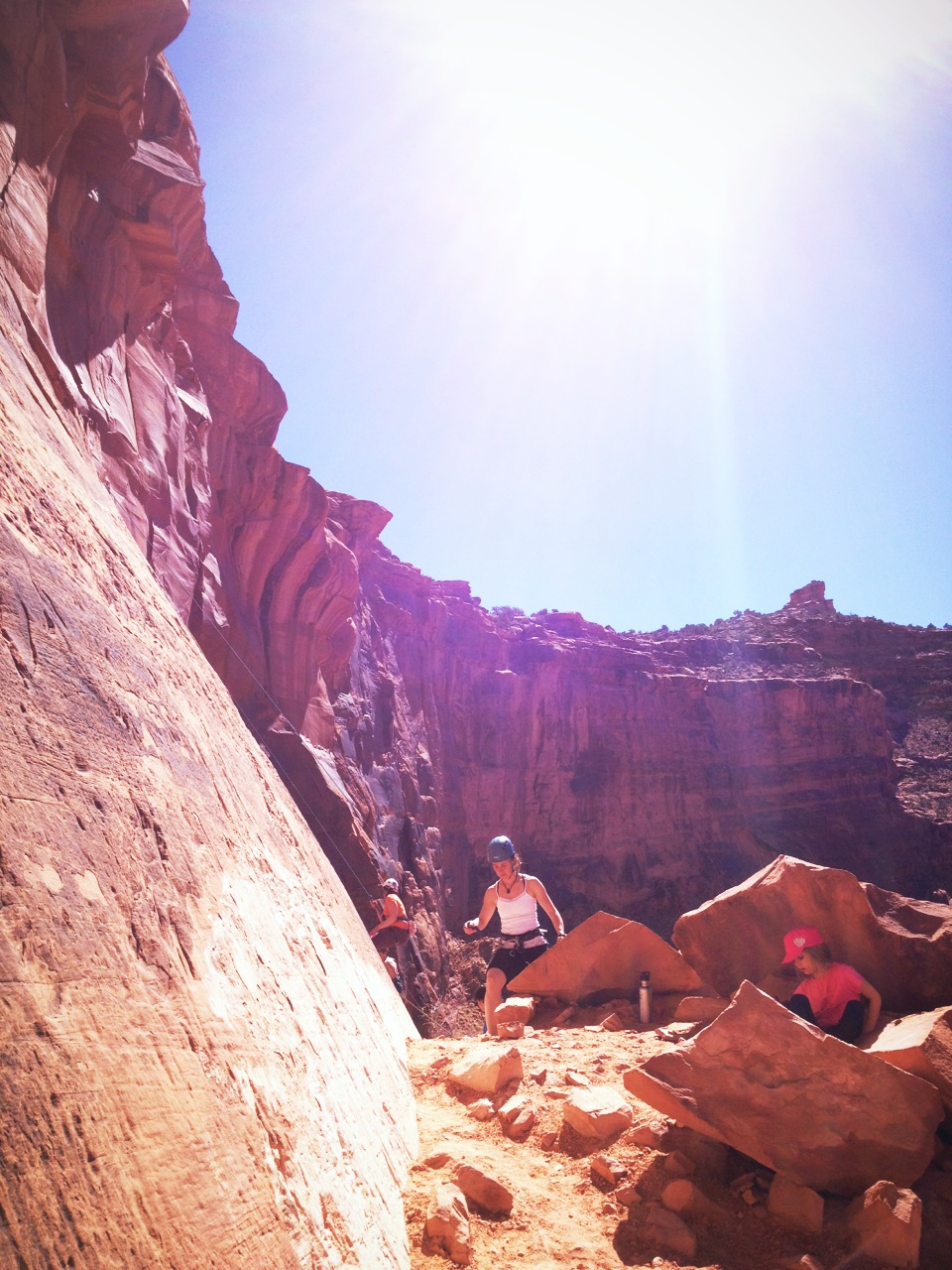 What about our little girl?! Even though our girl had been on a rope at the climbing gym and on indoor bouldering walls, she wasn't interested in climbing on this trip. She mostly played in the boulder fields, chased lizards, and entertained the rest of us. If you can't tell from the above photo, it was a crazy sunny and hot day. We were literally baking on the wall. But our girl found the only shady spot big enough to hide in and spent a good amount of the day playing there in the sand.
The truth is, in climbing, if you have anything more than a 2 climbers to 1 rope ratio, there is a lot of waiting. Waiting to make sure all your gear is secure/safe, waiting while the lead climber sets up a route, waiting while they tie off on the top anchors, waiting while the next person switches to belayer and climber, waiting while everyone checks gear safety again, waiting your turn, waiting for everyone to climb one route so you can move the rope to another area... a whole lotta waiting. This is especially true when you bring little ones on a climbing adventure and is another reason why having a "safe" place to wait is important. The kids really are troopers for waiting so much!
We ended this day exhausted and sunburned and I think we even ran out of water. Once back to our condo area, we enjoyed a meal together and began planning out just how much fun we could cram into our next day's "rest" day. :)!